Lieutenant Colonel Kevin Bosch
Director, FAO Program Office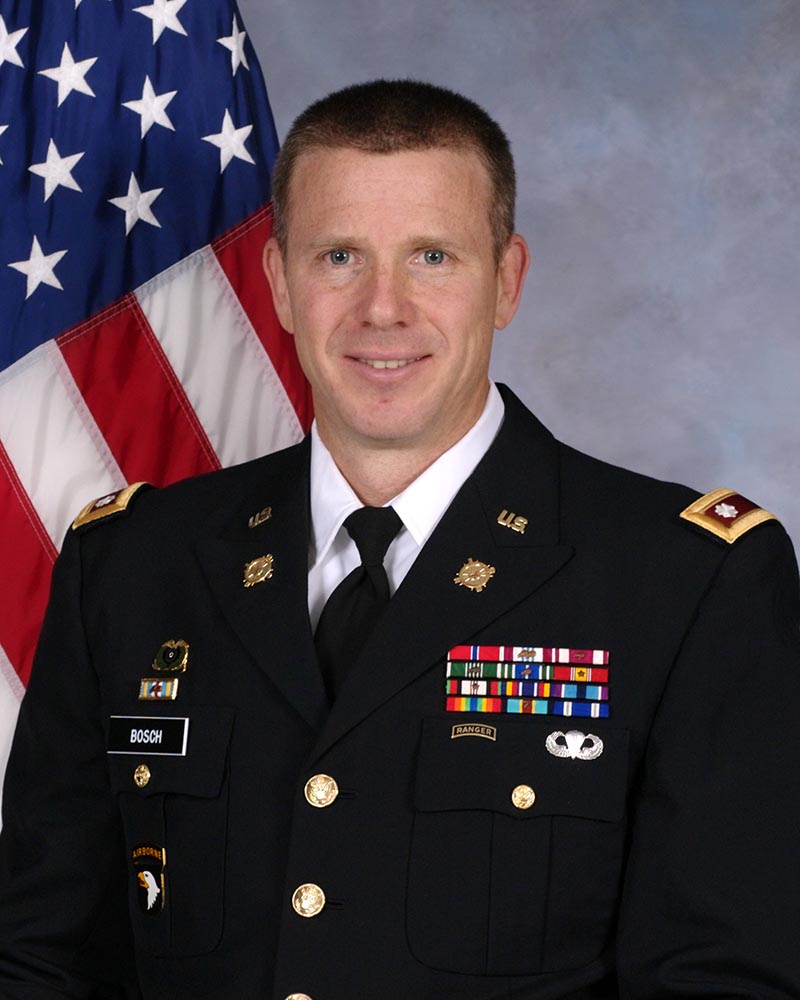 Lieutenant Colonel Kevin Bosch is currently assigned as the Director of the Foreign Area Officer Program Office at DLIFLC, Presidio of Monterey, California. LTC Bosch is responsible for supervising the training and professional development of approximately 100 newly-assessed U.S. Army Foreign Area Officers as they complete their language training at DLIFLC. LTC Bosch is also the course director for the biannual Joint Foreign Area Officer Course (JFAOC), Phase I.
LTC Bosch is a graduate of the Army Reserve Officer Training Corps Program at Oregon State University and began his career as an infantry officer in 1994.  LTC Bosch's first military assignment was to Fort Drum, New York, where he served as an Infantry Rifle Platoon Leader, Battalion Logistics Officer (S4), and Brigade Logistics Officer in the 10th Mountain (Light) Division. LTC Bosch transitioned from Infantry to Quartermaster, and following completion of the Officer Advanced Course at Fort Lee, Virginia, was assigned to duty in Okinawa, Japan, where he served as Assistant Battalion Operations Officer, Battalion Logistics Officer and Company Commander in the 58th Signal Battalion.
LTC Bosch began his training as a European Foreign Area Officer in 2002 when he entered the Basic German Language Course at DLIFLC. Following completion of language training, the Bosch family moved to Bonn, Germany, where LTC Bosch conducted a yearlong program of cultural immersion and travel throughout Europe to learn the Pol-Mil issues and relations of the region.
Following graduate school, LTC Bosch was assigned to HQ U.S. European Command in Stuttgart, Germany, as a Pol-Mil Staff Officer. Following his assignment in Stuttgart, LTC Bosch served as the Deputy Chief of the Office of Defense Cooperation at the U.S. Embassy in Baku, Azerbaijan, followed by an assignment as the Chief of the Office of Defense Cooperation in Tirana, Albania. The Bosch family returned to Germany, where LTC Bosch served at HQ U.S. Army Europe in Wiesbaden, Germany. While stationed in Germany, LTC Bosch deployed to Bagram Airfield in support of Operation Enduring Freedom. LTC Bosch next served as the Foreign Area Officer Branch Chief at U.S. Army Human Resources Command in Fort Knox, Kentucky.
LTC Bosch's awards and decorations include the Bronze Star Medal, the Defense Meritorious Service Medal (three awards), the Meritorious Service Medal (three awards), the Ranger Tab, the Albanian Distinguished Service Medal, and the German Proficiency Badge. LTC Bosch holds a Master's degree in National Security Affairs from the Naval Postgraduate School, and is a German linguist.
LTC Bosch is a native of Salem, Oregon, is married and has two sons.