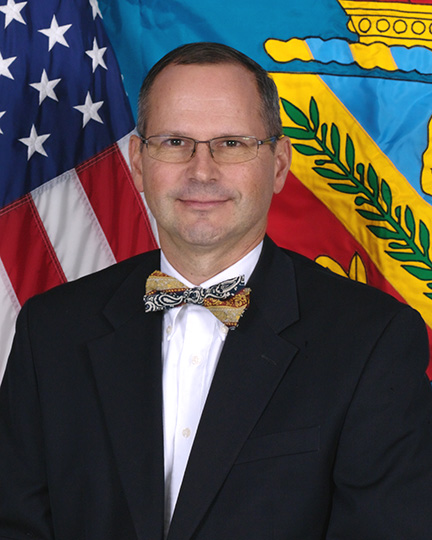 Dr. Robert Savukinas
Provost
Dr. Savukinas was born in Washington DC and grew up in a bilingual household speaking Italian and English. He attended Duquesne University, Pittsburgh, Pennsylvania on an Army ROTC Scholarship and graduated with honors in Spanish and Political Science. His undergraduate immersion experience was in Alicante, Spain, and subsequently attended graduate school to earn a Master's Degree in Spanish from The Catholic University of America, Washington, DC. During this time, Dr. Savukinas began his teaching career instructing Spanish. His graduate immersion experience was in Valladolid, Spain. Dr. Savukinas attended The George Washington University as a Graduate Fellow, earning his Doctor of Education in Higher Education Administration. As a Graduate Fellow, Dr. Savukinas is credited for revising the graduate student admissions process which enabled the institution to make admissions decisions more efficiently. Dr. Savukinas has published in the area of Spanish literature, community colleges and students with disabilities, open universities, and facility-improving community college partnerships. His dissertation was nominated for a national award. Dr. Savukinas has held positions in government, education and the military sector. Early in his career, Dr. Savukinas served as a Congressional Staffer for the 7th Congressional District, North Carolina. In this capacity, he focused on military/veteran and immigration issues. Dr. Savukinas also instructed foreign language at several institutions. He has over 13 years of combined teaching experience at the secondary and post-secondary levels. Dr. Savukinas likewise has military experience. He was commissioned as a 2nd Lieutenant in the U.S. Army and served 12 years in the Reserve where his assignments included working as the S-1 in a Military Police Training Brigade, Executive Officer, Company Commander, and Headquarters and Headquarters Detachment Commander. DLIFLC hired Dr. Savukinas in 2005 as Assistant Registrar. In this capacity, he led the DLIFLC Associate of Arts Degree program and he volunteered to be a lead author for the 2006 Accreditation Self Study. Since then, Dr. Savukinas was promoted to Registrar, Associate Dean, Accreditation Liaison Officer, and Director of the Office of Standardization and Academic Excellence. He earned several military distinctions to include Army Commendation Medals and Army Achievement Medals. Some of his most notable accomplishments include establishing and managing the DLIFLC Board of Visitors, maintaining and reaffirming DLIFLC's regional (WASC/ACCJC) and TRADOC accreditations, and the continuous success of the DLIFLC Associate of Arts Degree program. Dr. Savukinas is married and has three daughters.
Dr. Hiam N. Kanbar
Associate Provost of Undergraduate Education
Dr. Hiam Kanbar has been engaged in foreign language pedagogy for over 30 years. She grew up in Lebanon, where she completed her undergraduate studies. She earned a Teaching Diploma from Beirut Teachers' Academy, and her Bachelor of Arts in Foreign Language Teaching, with a major in teaching French as a foreign language and minor in Arabic language and literature, from the College of Letters and Humanities of the Lebanese University, Beirut.
She subsequently moved to France to pursue her graduate studies at the University of Franche-Comté where she received a Master's degree and Doctorate degree with Highest Honors in the area of Applied Linguistics. Her dissertation was on Theories and Practices of Literary Texts in French as a Foreign Language.
Dr. Kanbar began her career as a foreign language teacher in Lebanon and France, joining DLIFLC as an Arabic instructor in 1991. She currently holds the rank of professor, and her work ssignments have included test development at the Directorate of Evaluation and Standardization, as well as program management as chairperson. She has served as dean of three schools: Asian School III, Middle East School I, and the European and Latin American School. She currently serves as Associate Provost for Undergraduate Education and as the Deputy Institutional Official for Human Research Protections Program at DLIFLC.
In addition to her work in language teaching and testing, her research interests encompass spoken language in applied linguistics, as well as proficiency on cultural issues as they relate to the DLIFLC mission. In 2005 and 2006, she taught applied linguistics and Arabic at the Monterey Institute of International Studies. Over her career, she has made numerous presentations at DLIFLC, the American Council for Teachers of Foreign Languages conventions, Teachers of English as a Second or Other Language, and the Less Commonly Taught Languages conferences on "Cultural barriers in the foreign language classroom," "Understanding and achieving level 3 proficiency," and "Understanding and teaching the spoken language." Additionally, she serves as a referee for the Modern Language Journal and in the past served as a speaking evaluator for California State University at Monterey Bay, and an Oral Proficiency Interview tester for graduating students in Levantine at Yale University.
As part of her involvement in the community, she has served on the board of several non-profit organizations and is a member of several language and cultural associations. She served on the board of the Arab-American Club of the Monterey Peninsula and she is a member of the United Nations Association of Monterey Bay. She is also a member of the World Affairs Council, the American Association of Teachers of French, and the American Association of Teaches of Arabic.
Mr. Detlev Kesten
Associate Provost for Academic Support
DLIFLC Associate Provost of Academic Support, Mr. Detlev Kesten, is responsible for coordinating and supporting the work of the other associate provosts for the purpose of addressing academic and administrative priorities established by the DLIFLC Provost. Additionally, he has supervisory responsibilities over the divisions of Academic Affairs, Training Analysis, Faculty Development Support, Curriculum Development Support, and Student Learning Support, as well as the Immersion Language Program, Academic Journals, and AISO Library.
Mr. Kesten served DLIFLC as a German instructor from 1987 until 1990. Following his first assignment, he spent 14 years in the private sector, working in sales for such companies as AT&T, Duke Energy, Telstra, his latest assignment as VP of Sales and Marketing. During his time in corporate America, Mr. Kesten sold localization, translation and interpretation services to Fortune 1000 companies and managed sales teams across the country. In 2004, he returned to Monterey and DLIFLC and has been working in the Provost Office since 2006. During his tenure, he worked as Faculty Associate in support of the day-to-day operation of the Office of the Provost. In that position, he managed a large variety of assignments that stretched across all DLIFLC directorates. Most recently, Mr. Kesten was promoted to Associate Provost for Academic Support.
He holds a Master of Arts in Education from Chapman University and a Bachelor's Degree in Secondary Education from Calvin College.
Dr. Mica Hall
Associate Provost for Continuing Education
Mica Hall earned her BA in Russian Language and Literature from Willamette University in Salem, Oregon, and her MA and PhD in Slavic Linguistics from University of Washington in Seattle, Washington. She also earned a Master of Public Administration from Golden Gate University.
Prior to starting at DLIFLC, Ms. Hall served as the in-country immersion program coordinator for Willamette University's semester-in-country in Simferopol, Crimea. She also taught American English for English teachers at Tavricheskij National University, as well as intermediate and advanced English as a Foreign Language for high school and university students in Simferopol. While still in graduate school, she taught first-year Russian in the University of Washington summer intensive program, served as a research intern in Speech Communications (Rhetoric) at Willamette University, and worked as an assistant Law Librarian at Willamette University and University of Washington Law Schools.
In 1998 she returned from Crimea and in 1999 started teaching the Russian Basic Course at DLIFLC. In 2000 she moved to the San Antonio, Texas Language Training Detachment, Extension Programs, Continuing Education, to teach refresher, intermediate, and advanced Russian to both military and civilian Department of Defense personnel. Creating new course curricula and materials especially suited to students needs gave her greater insight into what DLIFLC linguists need from the Basic Course to function as linguists in the field. In 2009 she returned to Monterey, California as the Branch Chief of the Russian Intermediate and Advanced programs at Resident Education, Continuing Education. After serving for a year as Acting Associate Dean of Extension Programs, Continuing Education, Ms. Hall moved to Middle East I as an Academic Specialist, and was subsequently selected as the Dean for the Persian Farsi School in May 2015. In May 2017, Ms. Hall was selected for the TRADOC Intermediate Leadership Development Program, a two-year program intended to increase her current leadership knowledge and skills, improve her proficiency across Executive Core Qualifications, and expand the leadership capabilities of DLIFLC.
In 2018, Ms. Hall was selected to serve as Associate Provost for Continuing Education.
Lt. Col. Paul Choi
Dean of Students
Lt. Col. Paul Choi is the Dean of Students, Defense Language Institute Foreign Language Center, Presidio of Monterey, California. He is responsible for adjudicating on out of ordinary student issues in support of leadership objectives.
After becoming a U.S. citizen in 1999, Lt. Col. Choi was commissioned as a 2nd Lieutenant after completing U.S. Air Force Officer Training School in 2000. He served in program management, cyber research, signals intelligence, logistics planning, and Allied armaments planning roles. His support to NATO include various Steadfast exercises as well as Cyber Coalition challenges which incorporated Partners for Peace states.
He is both a Certified Information Systems Security Professional and Project Management Professional.
He is married to the former Rebecca Simonsen of Oregon, and has two sons.
EDUCATION
1998 Bachelor of Science in Chemistry, Westmont College, Santa Barbara, CA.
2003 Masters of Arts in Computer Resource Information Management, Webster University, St Louis, MO
2006 Squadron Officer School, Maxwell AFB, AL
2010 Air Command and Staff College, by correspondence
2012 Army Command and General Staff College, by correspondence
2013 Joint and Combined Warfare School, Joint Forces Staff College, Norfolk, VA
2015 Air War College, by correspondence
ASSIGNMENTS
March 2000-2004, Logistics Manager, Acquisition Security Manager, and Ground Systems Manager, Space and Missile Systems Center, Los Angeles AFB, CA
June 2004-September 2008, Program Manager, E-8 Communications and E-3 Avionics Systems, Electronic Systems Center, Hanscom AFB, MA
October 2008 – September 2011, Deputy Division Chief and Flight Commander, Detachment 1, 318th Information Operations Group, Fort George G. Meade, MD
October 2011-April 2013, Air Logistics Planner, Allied Force Command Heidelberg, Campbell Barracks, Germany
April 2013 – June 2013, Student, Joint and Combined Warfare School, Joint Forces Staff College, Norfolk, VA
July 2013 – May 2016, Defense Planner, Allied Command Transformation Staff Element Europe, Mons, Belgium
June 2016 – June 2018, Chief, Standardization and Evaluation, Commandant of Cadets, U.S. Air Force Academy, CO
July 2018 – December 2018, Strategic Assessments Lead, NORAD/USNORTHCOM J8, Peterson AFB, CO
January 2019 – Present, Dean of Students, Defense Language Institute Foreign Language Center, Presidio of Monterey, CA
SUMMARY OF JOINT ASSIGNMENTS
October 2011 – April 2013, Air Logistics Planner, Allied Force Command Heidelberg, Campbell Barracks, Germany, as a Major
July 2013 – May 2016, Defense Planner, Allied Command Transformation Staff Element Europe, Mons, Belgium, as a Major and Lieutenant Colonel
July 2018 – December 2018, Strategic Assessments Lead, NORAD/USNORTHCOM J8, Peterson AFB, CO, as a Lieutenant Colonel
MAJOR AWARDS AND DECORATIONS
Defense Meritorious Service Medal with one oak leaf cluster
Meritorious Service Medal with one oak leaf cluster
Joint Service Commendation Medal
Air Force Commendation Medal with one oak leaf cluster
Joint Service Achievement Medal
Air Force Achievement Medal
EFFECTIVE DATES OF PROMOTION
Second Lieutenant March 3, 2000
First Lieutenant March 3, 2002
Captain March 3, 2004
Major October 1, 2010
Lieutenant Colonel February 1, 2016
(Current as of May 2019)