Members of the 311th Air Force Training Squadron drill team won hands down over their competitors, the 314th AF Training Squadron team, in a quarterly competition that took place on Solider Field Sept. 12, at the Presidio of Monterey and Defense Language Institute Foreign Language Center.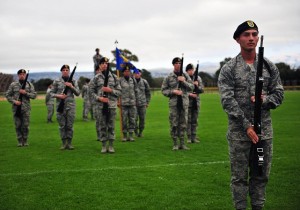 "It was like watching an America's got Talent show with a backdrop of an incredible view of Monterey Bay from Soldier Field, "said Col. Ginger Wallace, who took command of the 517th Training Group and position of DLIFLC Assistant Commandant in June."This was the first time I have presided over this kind of an event here. It's fantastic!"
The 311th drill team prepared an elaborate free style routine that included tossing rifles more than 20 feet into the air to be caught seamlessly by another team member, finishing up with a human pyramid constructed with the aid of rifles to form a platform.
"We judged three categories," said Senior Master Sgt. Carol Sligh, who was on the judging panel. "We look at a 'regulation,' portion which is a collection of marching movements, then we evaluate their free style routine, where they get to choreograph their own piece, and the third category is called 'overall' where we judge dress and appearance and ask questions to test their Air Force knowledge."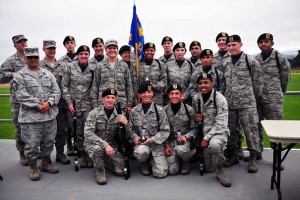 Air Force service members who want to participate in the drill team have steep requirements to qualify. "The students have to have a 3.0 in their studies of a foreign language, as well as a record of good conduct at the squadron level," said Sligh, explaining that the difficulty and length of the 24 courses at DLIFLC can be daunting.
"For example, the Arabic course lasts 64 weeks and they have tons of homework every night. It takes a lot of effort to participate in extracurricular activities and still excel in the classroom. It is extraordinary to see how proud these young Airmen are to wear the Air Force uniform," explained Sligh.
The 311th squadron won in all three categories, receiving three trophies, presented by Col. Wallace. As assistant commandant, she is responsible for both the 311th and 314th Training Squadrons, as well as another 3,000 students from the Army, Marine Corps, Navy, and Coast Guard.
Story and Photo Credits
Story and by photos by Natela Cutter, DLIFLC PAO
---
Posted Date: 13 September 2013