By Tammy Cario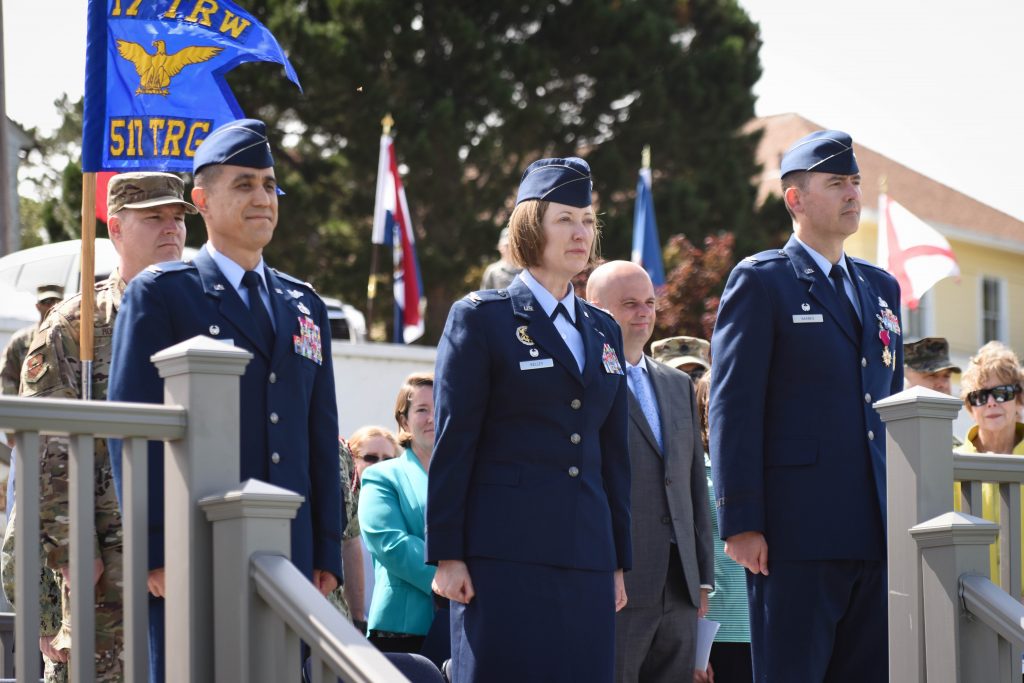 Air Force Col. Stephanie R. Kelley accepted responsibility as the assistant commandant of the Defense Language Institute Foreign Language Center in a change of command ceremony held at the Presidio of Monterey, June 24, 2019. Kelley also took over as the new commander of the 517th Training Group.
The outgoing assistant commandant of DLIFLC, Air Force Col.
Wiley L. Barnes, the former commander of the 517th, reliquished responsibility in the ceremony presided over by Air Force Col. Ricky L. Mills, the 17th Training Wing commander at Goodfellow Air Force Base, Texas.
Kelley came to DLIFLC from Maxwell Air Force Base, Alabama, where she was a professor of Strategy and Security Studies in the School of Advanced Air and Space Studies, a premier school for strategy.
Speaking to the Airmen at Soldier Field, she said, "Language is not just interpreting, but it's connecting the meaning" and cultural context behind it. "You will ensure that our leaders understand not only what was said but what was meant" because of their unique skillset. Later she closed her speech with, "I look forward to meeting each and every one of you…"
Barnes, who is headed to the Pentagon in Crystal City, Virginia, challenged the 517th Airmen to keep improving themselves. "It is not a birthright what we are the most powerful nation on earth and the world's most powerful Air Force. We have to earn it every day." He urged them to continue being great Airmen and first class linguists.
"It has been the privilege of a lifetime to command the 517th Training Group," Barnes said. "In the words of General Jimmy Doolittle, "I could never be so lucky again.'"
---
Posted Date: 25 June 2019