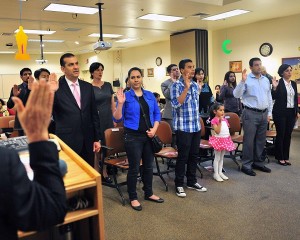 Ten faculty members of the Defense Language Institute Foreign Language Center became naturalized citizens in a ceremony carried out by the U.S. Citizenship and Immigration Services (USCIS) at the Presidio of Monterey Sept. 5.
Four additional family members participated in the naturalization ceremony, though they had automatically become citizens the moment their parents received notification. The process takes place automatically if children are under the age of 18.
"The youngest person ever to participate in this ceremony was Ms. Zainab who is six years old. She was so excited about the ceremony and wanted to be there with her big brother and sister," said Connie Trautman, a DLIFLC Faculty Personnel System staff member who helped coordinate Thursday's event.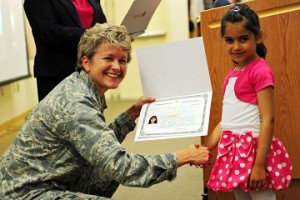 "It is a great honor to stand before you today and congratulate you on becoming United States citizens," said DLIFLC Assistant Commandant Col. Ginger Wallace, who read a short biography of each individual who received a certificate.
Naturalization ceremonies are organized jointly by USCIS and DLIFLC each quarter because of the large number foreign instructors the Institute employs.
Story and Photo Credits
Story and by photos by Natela Cutter, DLIFLC PAO
Photo 1: New American citizens pledge allegiance to the flag shortly after becoming naturalized at the Presidio of Monterey Sept. 5, 2013.
Photo 2: Assistant Commandant Col. Ginger Wallace hands Zainab her naturalization certificate during a ceremony at the Presidio of Monterey Sept. 5, 2013.
---
Posted Date: 5 September 2013