When U.S. Army Capt. Matthew Kuhlman in-processed last fall at the Defense Language Institute Foreign Language Center in Monterey, Calif., he picked up a special 70th anniversary edition of the installation Globe magazine, and started thumbing through the pages.
"On page 14 he noticed a picture of a group of Slavic folk dancers. The nice-looking young lady third from the left in the picture, Olga Vieglias, is Matt's mother," said retired Lt. Col. Jim Kuhlman, in an e-mail to the Institute.
"I was a student of Russian at DLI from July 1974 to June 1975 as a trainee in the Army's Foreign Area Officer Program for the Soviet Union and East Europe. Olya was one of my instructors in the course and we were married in August 1975 as I was beginning the course of study at the Russian Institute in Garmisch, Germany," explained Kuhlman.
Thirty eight years later, Capt. Kuhlman followed in his father's footsteps, right down to the Foreign Area Officer Military Occupation Specialty, albeit for a different language and region of the world, French and Sub-Saharan Africa, where he has an impending assignment to Botswana for his in-country training phase.
"I always had the idea of wanting to be a FAO in the back of my mind," said Capt. Kuhlman. "I wanted to learn about different cultures and decided to apply to the program, after my two tours in Iraq." After seven years of being in artillery, Capt. Kuhlman was assigned the Sub-Saharan Africa region that falls under U.S. Africa Command, one of the Department of Defense's six geographic combatant commands.
"I am looking forward to spending a year in Botswana where I will be working closely with U.S. Embassy staff, but will also have the opportunity to travel and learn more about the politics of the region," said Capt. Kuhlman about the FAO program that includes language study, in-country specialization of the assigned region, and the completion of a masters degree program.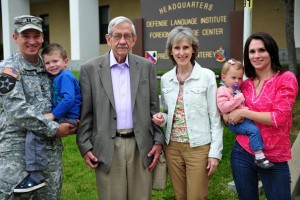 "I plan on completing a Master's degree in International Relations at George Washington University when I return," explained Capt. Kuhlman.
Because of their regionally focused expertise in political-military operations, FAOs typically serve overseas tours as defense attaches and security assistance officers in U.S. Embassies around the world, and/or political military planners in Department of Defense agencies. FAO's roles and responsibilities include acting as advisors to senior leaders at home and abroad concerning political-military operations and relations with other nations. Critical for operations overseas, they providing cultural expertise to forward-deployed commands conducting military operations that often include military-to-military activities and assistance programs.
"Who knows, maybe one day my son will come back to study at DLI," said Cpt. Kuhlman with a chuckle, trying to hold on to his very active three-year-old during the interview.
Story and Photo Credits
Story by Natela Cutter, DLIFLC PAO
Photo 1: Russian instructor Luba Grant (left) stands next to her colleagues Anya Kuchareva and Olga Vieglias in the mid 1970s, while the fourth person is a student. Instructors and students were part of a small Russian dance group. (Photo courtesy Luba Grant)
Photo 2: U.S. Army Capt. Matthew Kuhlman, a graduate of the French language program, poses for a photo in front of DLIFLC headquarters with his father, retired Lt. Col. Jim Kuhlman, his mother Olga, wife Heather, and children. (Photo by Natela Cutter/Released)
---
Posted Date: 20 June 2013