Students of the Korean program at Defense Language Institute Foreign Language Center had a rare opportunity to hear directly from a spokesman of the South Korean government in their target language on Jan. 24.
Republic of Korea Consul General Dong-man Han presented his thoughts on U.S.-Korean relations and the status of North Korea to an auditorium of participants with standing room only.
"We are excited to make this connection with the Consul General and grateful that he has shared his thoughts and experience with us," explained Dr. Steven Berbeco, dean of the Asian School II Korean program. "Mr. Han's willingness to engage with our students in Korean sets a positive precedent for our activities as a school and supports our efforts to promote a Korean-only learning environment for our students."
The hour-long presentation was conducted entirely in Korean, with an opportunity for several questions from students attending the Korean Basic Course and Continuing Education programs.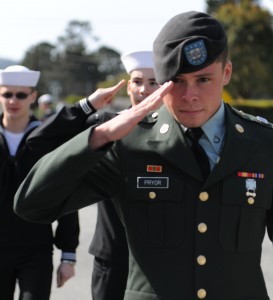 The visit served dual functions of strengthening ties between DLIFLC's Korean program and an important community stakeholder, as well as offering students the opportunity to engage directly with a high-ranking member of the South Korean government.
In preparation for the consul general's visit, instructors worked with their students on vocabulary specific to the topics that were to be presented, allowing them to fully follow and participate in a question and answer period that produced a lot of verbal interaction.
Han has been serving as consul general of the Republic of Korea since May 2013. He received his Bachelor's at Yonsei University in Korea and his Master's in International Organization Law at the Pantheon-Sorbonne University in Paris, France. He joined the Ministry of Foreign Affairs in 1985 and has held diplomatic posts in Algeria, the United Kingdom, and Australia, as well as in the Office of the President of Korea.
The Korean Basic Course language program at DLIFLC is 64 weeks long. Students are full-time learners, with five days of class a week and seven hours per day of class time.
"Our students are in one of the most rigorous language programs in America today," Berbeco stated. "We are always looking for ways to improve teaching and learning at our school to help them succeed."
Story and Photo Credits
Story by Dr. Steven Berbeco
Photos by Dusan Tatomirovic, Mission Public Affairs Specialist
Photo 1: Republic of Korea Consul-General Mr. Dong-man Han talks to DLIFLC Korean students about U.S.-Korean relations Jan. 24.
Photo 2: (L-R) DLIFLC Undergraduate Education Associate Provost Dr. Jielu Zhao; Republic of Korea Consul-General Mr. Dong-man Han, and Korean School Dean Dr. Steven Berbeco walk toward the Munakata Hall following the consul general's presentation to students and faculty Jan. 24.
---
Posted Date: 11 February 2014