By Tammy Cario
On a day set aside for the nation to recognize those fallen in the line of duty, the Defense Language Institute Foreign Language Center honored two service members who made the ultimate sacrifice for their country in a ceremony held May 23, 2019, on Soldier Field at the Presidio of Monterey.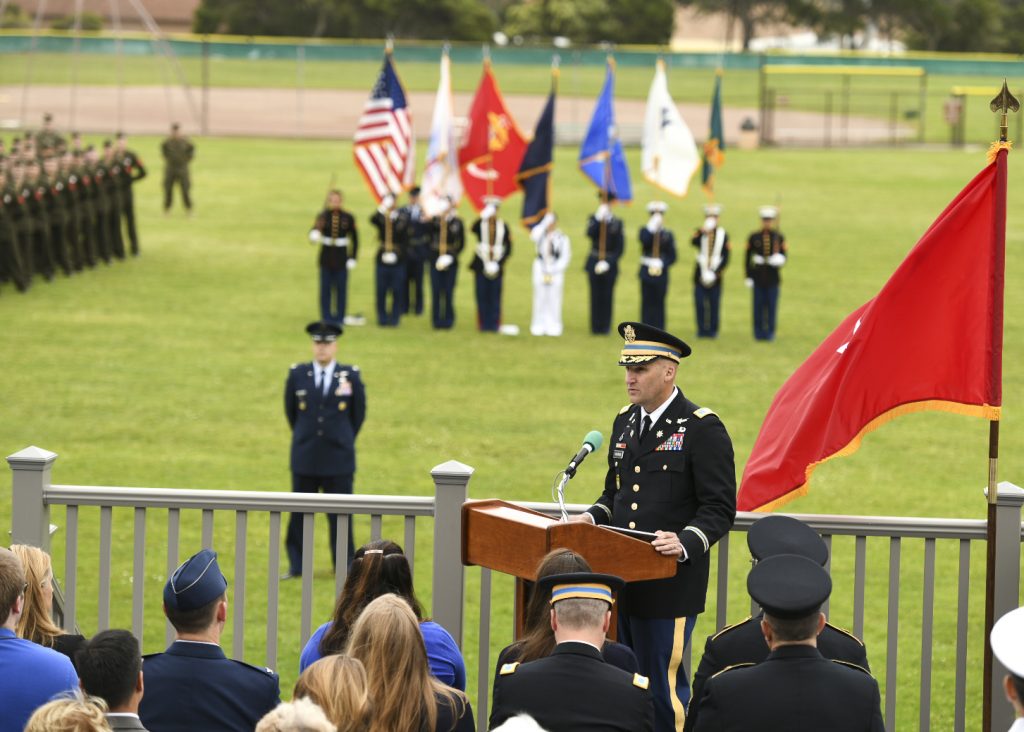 "With the hectic lives we lead today, it might be easy to think of Memorial Day as merely a three-day weekend," said Col. Gary Hausman, Commandant of DLIFLC. "It's much more than that. It is a time for our Nation to reflect…It's an opportunity for Americans to pay homage to those who died serving our Nation and acknowledge the immense debt we owe them and the families and loved ones they left behind."
This year, the Presidio of Monterey is honoring two DLIFLC graduates who were killed in action.
Army Staff Sgt. Alexander Conrad was born in May 11, 1992 in Mesa, Arizona. Directly after his high school graduation, Conrad joined the Army as a Human Intelligence Collector. His first duty station was Joint Base Lewis-McChord, where he deployed twice in support of Operation Enduring Freedom. His next assignment was to DLIFLC to learn French before he continued on to 3rd Special Forces Group (Airborne). While on deployment June 8, 2018, Conrad was killed by enemy fire in Somalia.
Sgt. First Class Guy Smith, a drill sergeant at DLIFLC, was Conrad's instructor for nearly six months while they were both at Ft. Huachuca, Arizona.
"Conrad was an ideal student. He was curious and focused…He frequently had the whole class laughing. He was always quick to help out his classmates, and he was one of the reasons the class was so tight knit," Smith recalled. "The Army and civilian instructors all really liked him too. He demonstrated leadership potential beyond his years."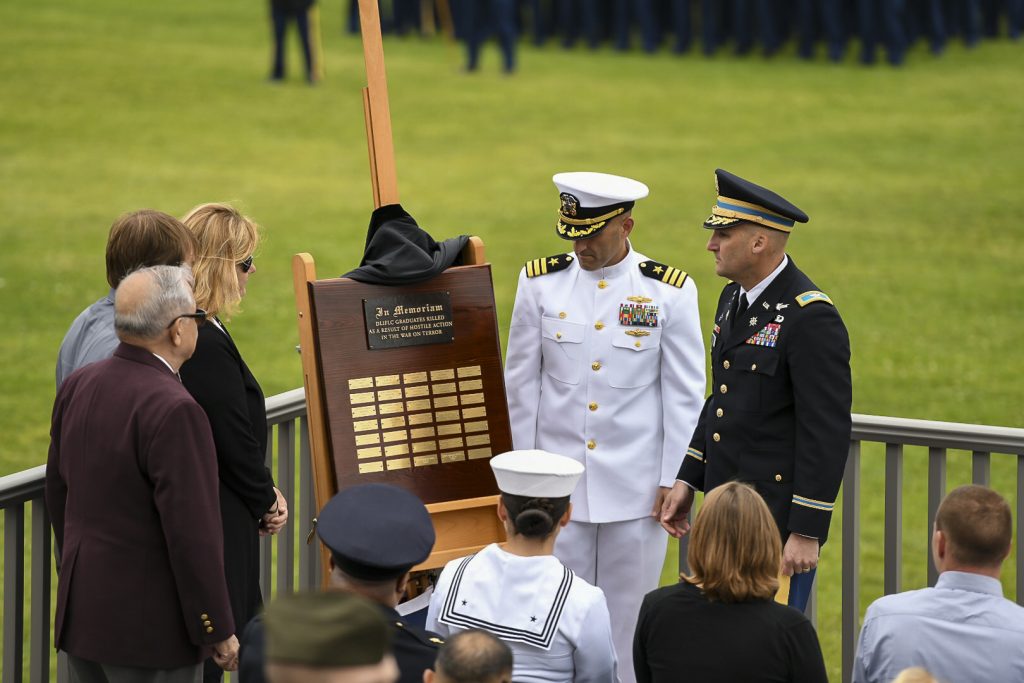 Navy Senior Chief Petty Officer Shannon Mary Kent was born in Oswego, New York on May 11, 1983. Her passion for languages led her to the Navy and then to DLIFLC where she studied Modern Standard Arabic. After she graduated in 2005, her first duty station was at the Navy Information Operations Command in Georgia, where she volunteered to deploy to Iraq with Seal Team 10. This experience led her to apply to work with Naval Special Warfare, and in 2008 she was accepted for duty as a Tactical Information Operations analyst at Naval Special Warfare Support Activity Two in Little Creek, Virginia. Kent went on numerous deployments during her time in the Navy. In November 2018, Kent deployed to Syria as part of a highly skilled, multi-disciplined task force involved in critical and demanding intelligence work. On Jan. 16, 2019, Kent was killed by an improvised explosive device detonated by a suicide bomber in the city of Manbij.
Sgt. Maj. Clint Rowe, operations sergeant major, Regimental Military Intelligence Battalion, 75 Ranger Regiment at Ft. Gordon, Georgia, knew Kent from when they both studied Arabic at DLIFLC. Their interactions wove in and out of their respective military careers because, as Rowe explained, the signals intelligence world is small and tight-knit.
"Shannon was a rare breed," Rowe, a former DLIFLC graduate and first sergeant, said. "A female in a male dominant SIGINT world. She was top tier, so good at analysis and so good at Arabic. She was one of those people who everyone gravitated toward."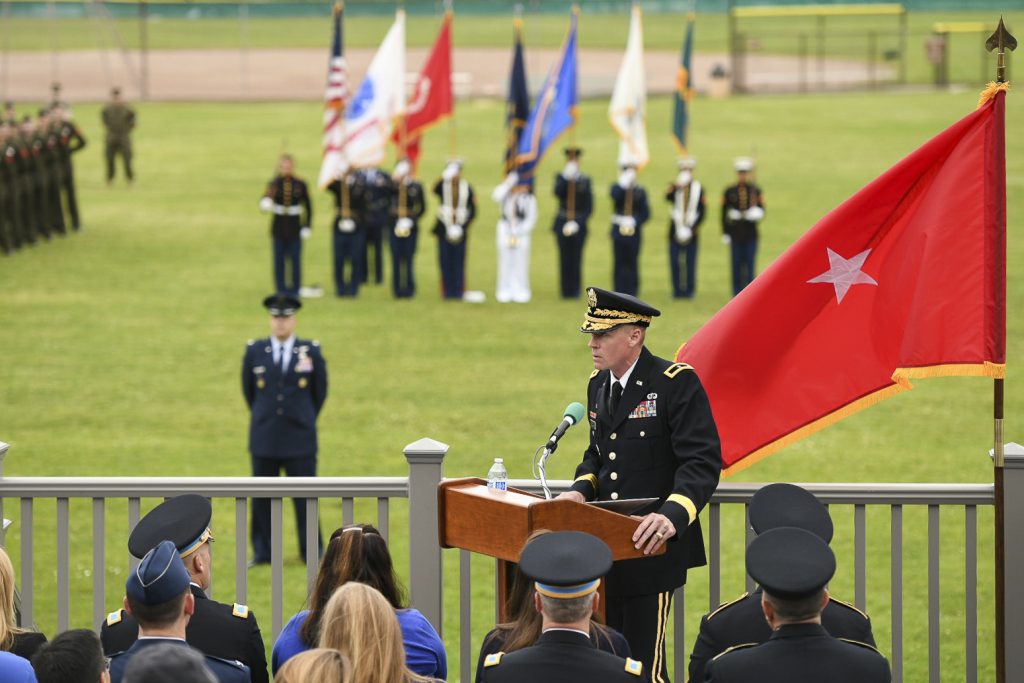 During the ceremony, both Conrad and Kent were memorialized on a plaque, their names added to 295 other DLIFLC graduates who gave their lives in service to their country.
Brig. General W. Shane Buzza, Commanding General of the 91st Training Division in Fort Hunter Liggett, California, was the guest speaker for the ceremony. He also honored two service members from his own unit, highlighting their service and memory.
"On this day, and every Memorial Day to follow," Buzza said, "we will remember."
---
Posted Date: 23 May 2019