The mission of the Aiso Library is to identify, acquire, manage, and provide library resources and services
to the students, faculty, and staff of the Defense Language Institute Foreign Language Center (DLIFLC),
in support of culturally-based language teaching, learning, sustainment, and enhancement.
COVID-19 Update
As of Sunday, March 22, 2020, Aiso Library is closed until further notice.
          Library Hours of Operation:
Sunday: 1200-1700
Monday: 0800-2000
Tuesday: 0800-2000
Wednesday: 0800-2000
Thursday: 0800-2000
Friday: 0800-1700
Saturday: CLOSED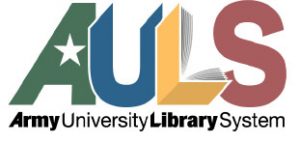 Aiso Library has joined the Army University
Library System. Please visit us at our new
online platform here.
Aiso Library | DLIFLC | 543 Lawton Road | Monterey, CA 93944 | Phone: 831-242-6948