Lieutenant Colonel Benjamin K. Selzer
Director, FAO Program Office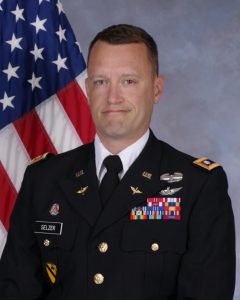 Lt. Col. Selzer earned his commission from St. John's University in Minnesota before attending the Aviation Officer Basic Course and U.S. Army Flight School in Fort Rucker, Alabama. As a UH-60 Blackhawk platoon leader and personnel specialist at Ft. Hood, Texas, Lt. Col.  Selzer deployed in support of Operation Iraqi Freedom II, supporting 1st CAV during multi-spectrum missions, to include the battles at Al Najaf and Fallujah.
Upon redeployment, Lt. Col. Selzer graduated from the Aviation Officer's Career Course and took command of an Air Traffic Service Headquarters Company in Giebelstadt and Wurzburg, Germany.  Following command, Lt. Col.  Selzer deployed with 12th Aviation Brigade as the Assistant Operations Officer for over 850 Soldiers and 45 aircraft which provided aerial support for the MNC-I and MNF-I Commanders, high-level VIPs, congressional delegates and the U.S. Vice President.  Lt. Col. Selzer also rapidly deployed to Basrah, Iraq, leading an aviation general support unit to augment British and MNF-I offensive operations in the region.
To become a European Foreign Area Officer, Lt. Col. Selzer graduated from the Defense Language Institute Foreign Language Center's French and Spanish courses before completing in-country training in Brussels, Belgium, and a second graduate degree. Following training, Lt. Col. Selzer served as the liaison officer to the French Army where he improved U.S.-French relations by assisting in the creation and implementation of a bi-lateral Strategic Vision Statement, allowing greater interoperability between both countries' militaries at the brigade, division and corps levels.
Upon assignment to the Defense Threat Reduction Agency, headquartered in the National Capital Region, Lt. Col. Selzer coordinated arms control implementation efforts among the interagency community and represented DTRA at the U.S. Mission to the Organization for Security Cooperation in Europe, in Vienna, Austria.  Later, he served as the On-Site Inspection Department deputy director, responsible for coordinating the implementation of 12 arms control treaties in North America and Europe.
Lt. Col. Selzer became the FAO Program director at DLIFLC in July 2019.
His commendations include the Bronze Star, French National Defense Medal, Senior Aviator Badge and Combat Action Badge.  Lt. Col. Selzer completed MIT's Seminar XXI Fellowship and is a certified Project Management Professional. He holds a Master of Arts in Diplomacy from Norwich University and an MA in European and Eurasian Studies from the George Washington University with a graduate certificate on European Union studies.