CLD Center for Leadership Development (*)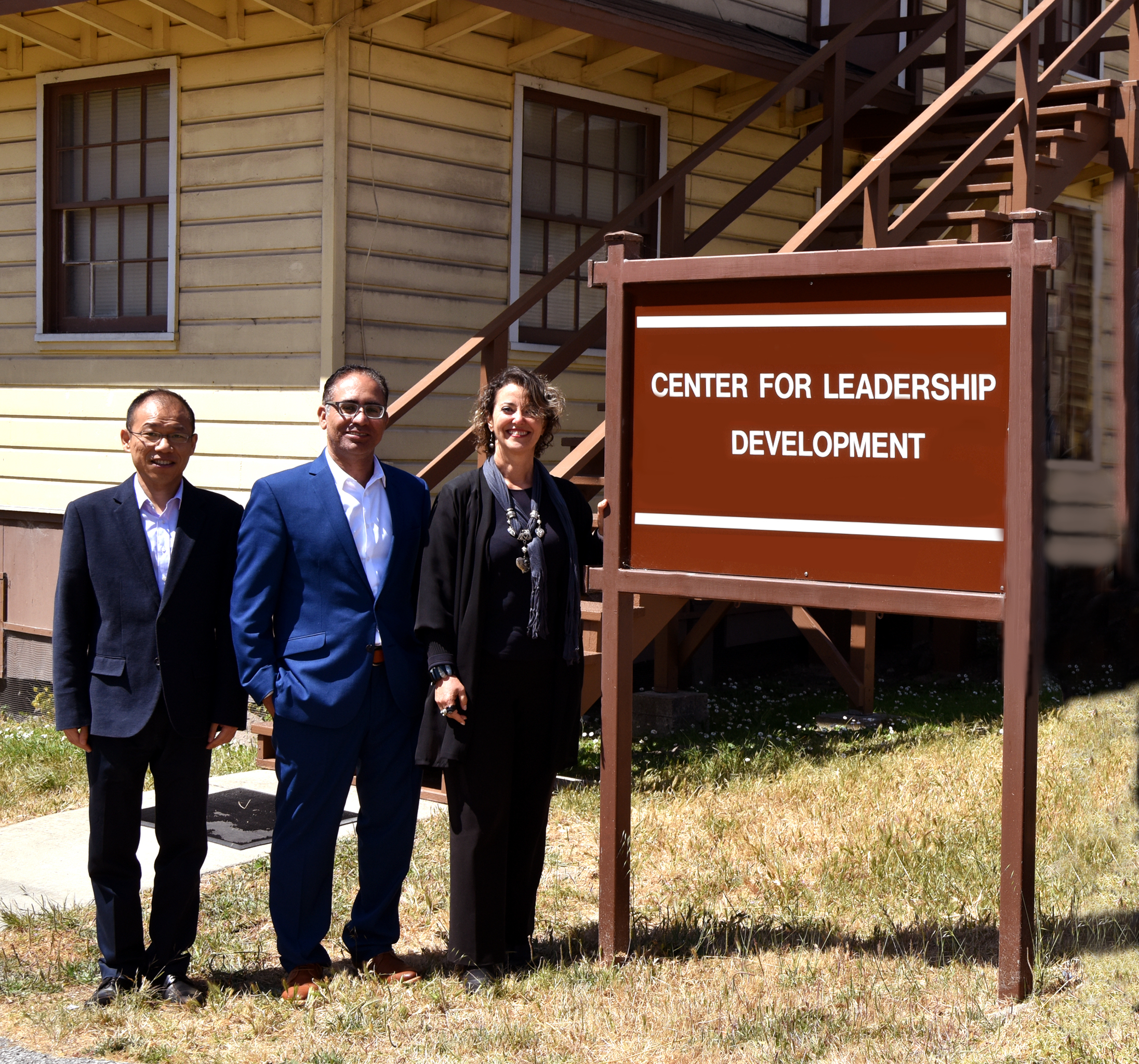 The Center for Leadership Development (CLD) was established at the Defense Language Institute Foreign Language Center in March 2017, as a result of a senior leadership summit held in the summer of 2016, identifying the need for a pathway to develop leadership competencies necessary at each level of supervision at the Institute.
The Center's purpose is to help develop current and future leaders who are committed to promoting a highly engaged and positive workplace. The focus at the Institute is on achieving higher student proficiency levels and requires customized and innovative leadership skill sets to increase faculty collaboration and involvement in decision making.
Current leaders and faculty who are interested in career progression, which includes leadership positions, will have access to a tangible career development path. The path toward career advancement will include context specific training, mentoring and coaching as well as workshops and guest speakers.
Mission and Vision
Mission: Enhance DLIFLC's leadership capacity through providing context-specific training and development for current and future leaders to promote a highly engaged and positive workplace that effectively supports the institute's mission.
Vision: Foster an innovative culture of leadership and followership built on commitment, trust and collaboration.
Leadership Development Roadmap
CLD has identified the target groups for leadership development in the Leadership Development Roadmap by level of responsibility and a menu of training options.
Additional Info
For additional information about CLD and to find our visiting scholar videos, DLIFLC faculty and staff can visit our SharePoint site.
IMPORTANT: Access limited to DLIFLC staff and faculty only. Authentication required.
Center for Leadership Development
Defense Language Institute Foreign Language Center
Building 206, Second Floor
(831) 242- 4341
Please e-mail us via the Contact Us page,
by selecting the Center for Leadership Development
from the drop-down menu.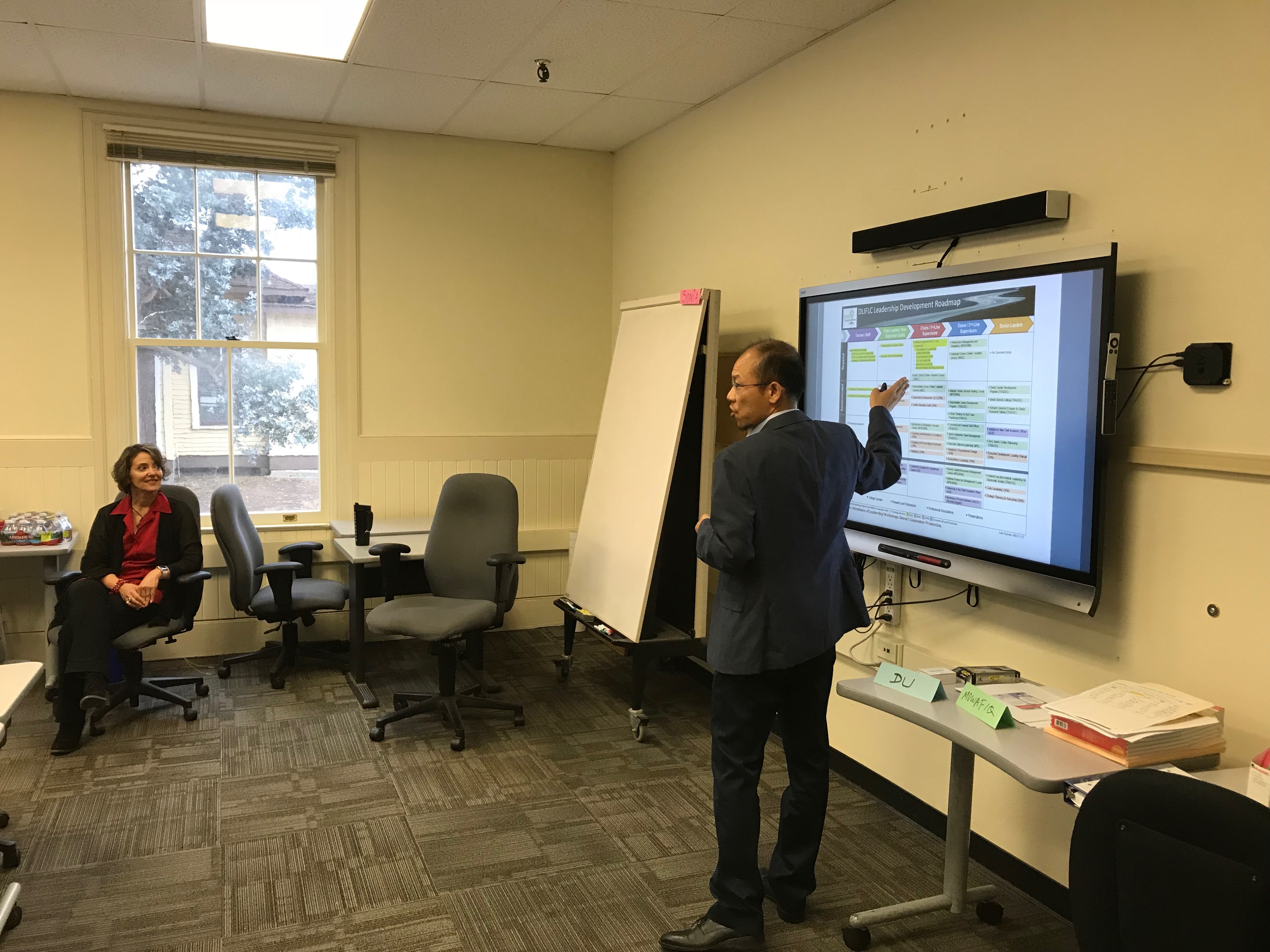 Headstart2
Headstart2 includes 80 to 100 hours of instruction, interactive tasks, language-specific pronunciation guides, cultural familiarization and orientation modules. Headstart2 is available in a stand alone (DVD format) or on-line version, and is worth up to 18 promotion points if completed on AKO/JKO.
Swahili Gateway
Swahili Gateway is a self-paced, interactive introductory language course in Swahili using videos and multimedia activities to introduce the language and culture. Topics include: basic greetings, travel phrases, numbers, time, currency, and making appointments, among others.
Cultural Orientation
Cultural Orientation introduces a given cultural group, combining brief language exchanges with an objective and practical look at daily life in different contexts. Topics include religion, traditions, family life and differences in the lifestyles of urban and rural populations.
Legends & Folktales
Legends & Folktales offers short animated pieces introducing famous myths, legends, and folktales from cultures across the globe to enhance cross-cultural literacy and provide insight into societies.
Countries In Perspective
Countries In Perspective begin with a Country Profile containing basic facts, followed by more detailed discussion of Geography, History, Economy, Society and Security.
GLOSS
The Global Language Online Support System offers 1000s of lessons in dozens of languages for independent learners to improve their foreign language skills. Lessons are available for intermediate and advanced learners, with the ability to focus on specific topic areas, tailored for building listening or reading proficiency.
Advanced North Korean Dialect Materials
Advanced North Korean Dialect Materials are a supplement for Korean language learning that can be incorporated into basic, intermediate, or advanced courses to provide students with cultural and regional information about North Korea.
Weekly Training Events
Shorter than in-depth GLOSS lessons, Weekly Training Events materials are available for speakers of specific critical languages to keep their skills sharp in a limited period of time.
Phone Conversations
Familiarity with regional dialects and realistic dialogues is key to achieving advanced listening proficiency. Phone Conversations contains more than 300 casual phone conversations in non-standard dialects of Spanish and Arabic. Arabic materials also include lesson plans for classroom use.
Accents Library
Available for Spanish and Arabic, the Accents Library offers collection of audio files read in both "standard" language, and in several regional accents to illustrate speech variations that occur in everyday speech.
Arabic Grammar Search
Have you forgotten a fine point of Arabic grammar? The Arabic Grammar Search takes you inside the language with complete A-Z Search and Help functions.
Cultural Awareness Assessment
Cultural Awareness Assessments gauge your familiarity with a particular society, including geographic facts, major religions, history, security situation, social customs, and basic survival phrases in the dominant language of the region.
Online Diagnostic Assessment
Online Diagnostic Assessment is a dynamic online platform to estimate language proficiency in reading or listening. ODA helps learners determine the subject areas and language specifics to improve, with customized suggestions for GLOSS lessons to help reach proficiency goals.
Rapport
Rapport is six to eight hours of language and culture pre-deployment training. It is mandatory training for all civilian and military U.S. Army personnel deploying to Iraq or Afghanistan.  Rapport is available in Dari, Pashto, Iraqi, Swahili, Hausa, Portuguese, French, Modern Standard Arabic, and Korean.
Language Survival Kits (LSKs)
Language Survival Kits include text, audio recordings, and translations for up to 3,000 mission-related phrases. Modules include: Air Crew, Basic Phrases, Civil Affairs, Cordon/Search, Force Protection, Medical, Military Police, Naval Commands, Public Affairs, and Weapons.