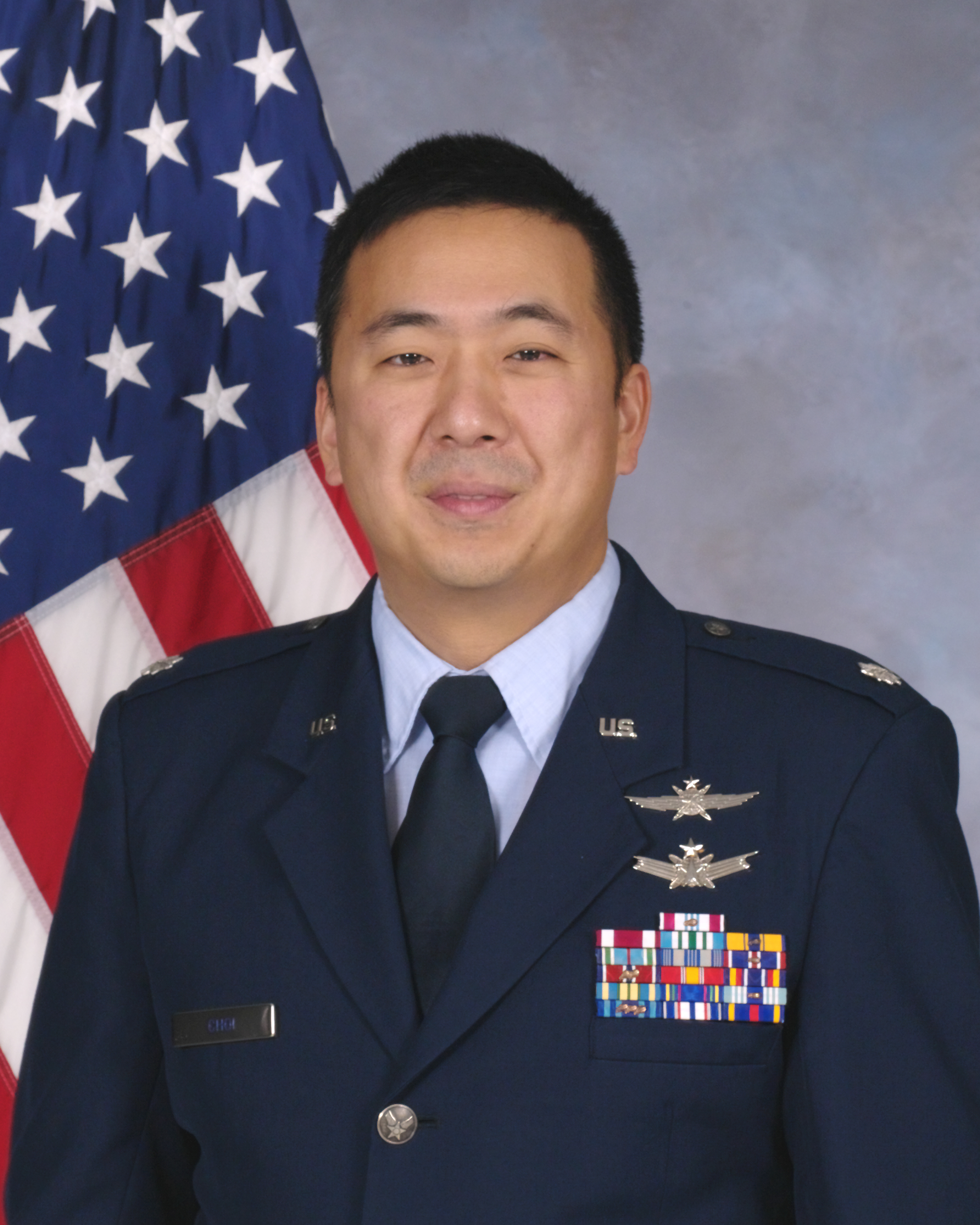 Lt. Col. Paul Choi
Lt. Col. Paul Choi is the Dean of Students, Defense Language Institute Foreign Language Center, Presidio of Monterey, California. He is responsible for adjudicating on out of ordinary student issues in support of leadership objectives.
After becoming a U.S. citizen in 1999, Lt. Col. Choi was commissioned as a 2nd Lieutenant after completing U.S. Air Force Officer Training School in 2000. He served in program management, cyber research, signals intelligence, logistics planning, and Allied armaments planning roles. His support to NATO include various Steadfast exercises as well as Cyber Coalition challenges which incorporated Partners for Peace states.
He is both a Certified Information Systems Security Professional and Project Management Professional.
He is married to the former Rebecca Simonsen of Oregon, and has two sons.
EDUCATION
1998 Bachelor of Science in Chemistry, Westmont College, Santa Barbara, CA.
2003 Masters of Arts in Computer Resource Information Management, Webster University, St Louis, MO
2006 Squadron Officer School, Maxwell AFB, AL
2010 Air Command and Staff College, by correspondence
2012 Army Command and General Staff College, by correspondence
2013 Joint and Combined Warfare School, Joint Forces Staff College, Norfolk, VA
2015 Air War College, by correspondence
ASSIGNMENTS
March 2000-2004, Logistics Manager, Acquisition Security Manager, and Ground Systems Manager, Space and Missile Systems Center, Los Angeles AFB, CA
June 2004-September 2008, Program Manager, E-8 Communications and E-3 Avionics Systems, Electronic Systems Center, Hanscom AFB, MA
October 2008 – September 2011, Deputy Division Chief and Flight Commander, Detachment 1, 318th Information Operations Group, Fort George G. Meade, MD
October 2011-April 2013, Air Logistics Planner, Allied Force Command Heidelberg, Campbell Barracks, Germany
April 2013 – June 2013, Student, Joint and Combined Warfare School, Joint Forces Staff College, Norfolk, VA
July 2013 – May 2016, Defense Planner, Allied Command Transformation Staff Element Europe, Mons, Belgium
June 2016 – June 2018, Chief, Standardization and Evaluation, Commandant of Cadets, U.S. Air Force Academy, CO
July 2018 – December 2018, Strategic Assessments Lead, NORAD/USNORTHCOM J8, Peterson AFB, CO
January 2019 – Present, Dean of Students, Defense Language Institute Foreign Language Center, Presidio of Monterey, CA
SUMMARY OF JOINT ASSIGNMENTS
October 2011 – April 2013, Air Logistics Planner, Allied Force Command Heidelberg, Campbell Barracks, Germany, as a Major
July 2013 – May 2016, Defense Planner, Allied Command Transformation Staff Element Europe, Mons, Belgium, as a Major and Lieutenant Colonel
July 2018 – December 2018, Strategic Assessments Lead, NORAD/USNORTHCOM J8, Peterson AFB, CO, as a Lieutenant Colonel
MAJOR AWARDS AND DECORATIONS
Defense Meritorious Service Medal with one oak leaf cluster
Meritorious Service Medal with one oak leaf cluster
Joint Service Commendation Medal
Air Force Commendation Medal with one oak leaf cluster
Joint Service Achievement Medal
Air Force Achievement Medal
EFFECTIVE DATES OF PROMOTION
Second Lieutenant March 3, 2000
First Lieutenant March 3, 2002
Captain March 3, 2004
Major October 1, 2010
Lieutenant Colonel February 1, 2016
(Current as of May 2019)