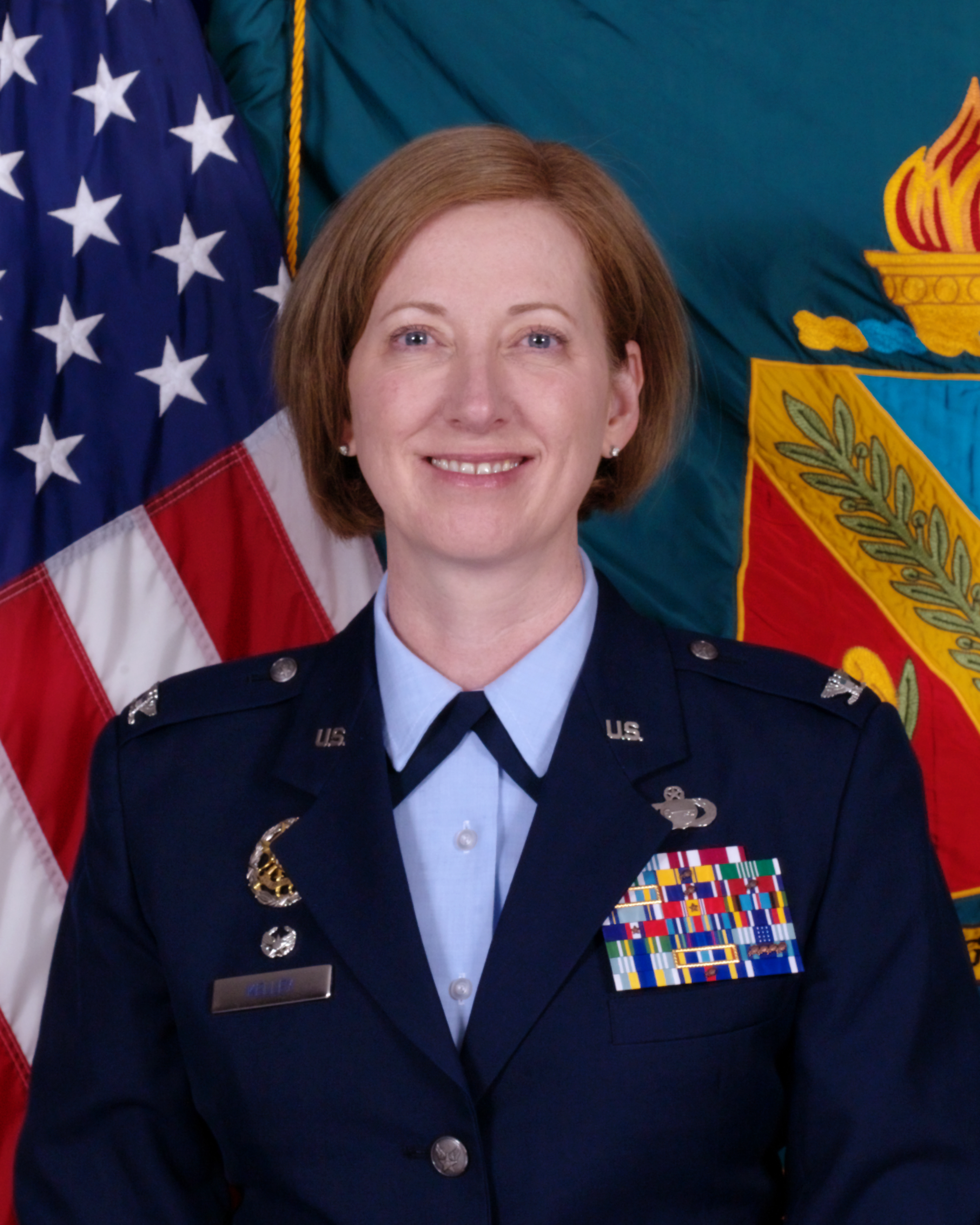 Col. Stephanie R. Kelley
Colonel Stephanie R. Kelley is currently the Assistant Commandant, Defense Language Institute Foreign Language Center and the Commander, 517th Training Group, Presidio of Monterey, California. In this capacity, Colonel Kelley directs language training for 34,000 Department of Defense personnel annually in 89 languages at 29 sites worldwide. She also oversees 1,800 faculty members and 250 joint-service staff providing language training, proficiency testing, and curriculum to train successful linguists. As the 517th Training Group Commander, Colonel Kelley leads two Air Force squadrons composed of about 1,200 Airmen, the majority of whom are Air Force Cryptologic Linguist trainees.
Prior to serving at DLIFLC Colonel Kelley was a professor of Strategy and Security Studies, School of Advanced Air and Space Studies (SAASS), Air University, Maxwell Air Force Base (AFB), Alabama. SAASS is a selective, one-year graduate school for strategists that educates Air Force, Department of Defense, and international students to develop, evaluate, and employ airpower as a component of military force in support of national objectives.
Colonel Kelley enlisted in the Air Force Reserves in 1992, serving as a medical technician at Travis AFB, CA and Kadena AB in Okinawa, Japan, before commissioning through Officer Training School in 1997.
A career intelligence officer, she has served in a variety of analytical, targeting and Intelligence, Surveillance and Reconnaissance positions in both Air Force and Joint commands. She has supported air operations over Kosovo, Iraq and Afghanistan; counterterrorism efforts in the Middle East; and ISR missions in Korea. Additionally, Col Kelley taught at the Air Force Special Operations School and commanded the Measurement and Signature Intelligence (MASINT) Analysis Squadron at the National Air and Space Intelligence Center (NASIC).
EDUCATION
1996 Bachelor of Science, Psychology, University of Maryland, Okinawa, Japan
2003 Squadron Officer School, Maxwell AFB, AL
2004 Master of Arts, National Security Affairs (Middle East Studies), Naval Postgraduate School, Monterey, CA.
2010 Master of Military Operational Art and Science, Air Command and Staff College, Maxwell AFB, AL
2011 Master of Philosophy, Military Strategy, School of Advanced Air and Space Studies, Maxwell AFB, AL
2013 Master of Science, Political Science, University of Chicago, IL
2018 Doctor of Philosophy, Political Science, University of Chicago, IL
ASSIGNMENTS
1. February 1997-November 1997, Student, Intelligence Applications Officer Course, 315th Training Squadron, Goodfellow AFB, TX
2. November 1997-November 2000, Chief, Target Intelligence, 31st Operations Support Squadron, Aviano Air Base (AB), Italy
3. June 1999 – September 1999, Chief, Targets, 332nd Air Expeditionary Operations Support Squadron, Al-Jaber AB, Kuwait
4. November 2000 – July 2002, Chief, Mission Support Branch, Crisis Operations Division, Joint Staff J2, Washington, D.C.
5. October 2001 – January 2002, Chief, National Intelligence Support Team, Joint Task Force – Southwest Asia, Prince Sultan AB, Kingdom of Saudi Arabia
6. March 2002 – April 2002, Chief, National Intelligence Support Team, Joint Task Force 170, Guantanamo Bay, Cuba
7. July 2002 – July 2003, Counterterrorism Intelligence Officer, Joint Intelligence Task Force for Combating Terrorism, Joint Staff J2, Washington, D.C.
8. September 2003 – September 2004, Student, National Security Affairs (Middle East Studies), Naval Postgraduate School, Monterey, CA.
9. November 2004 – March 2006, Student, Modern Standard Arabic Basic Course, DLIFLC, Monterey, CA.
10. April 2006 – December 2008, Director, Middle East Orientation Course, Air Force Special Operations School, Hurlburt Field, FL.
11. December 2008 – July 2009, Chief, Performance Technology, Air Force Special Operations School, Hurlburt Field, FL.
12. July 2009 – June 2010, Student, Air Command and Staff College, Maxwell AFB, AL.
13. July 2010 – June 2011, Student, School of Advanced Air and Space Studies, Maxwell, AFB, AL.
14. July 2010 – July 2014, Student, University of Chicago, Chicago IL.
15. July 2014 – July 2016, Deputy Director, ISR Division, US Forces Korea J2, Yongsan Army Garrison, Republic of Korea.
16. July 2016 – July 2018, Commander, Measurement and Signatures Intelligence Analysis Squadron, Wright-Patterson AFB, Ohio
17. July 2018 – June 2019, Professor, School of Advanced Air and Space Studies, Maxwell, AFB, AL
18. June 2019 – present, Assistant Commandant, Defense Language Institute Foreign Language Center and Commander, 517th Training Group, Presidio of Monterey
MAJOR AWARDS AND DECORATIONS
Defense Meritorious Service Medal
Meritorious Service Medal with one oak leaf cluster
Joint Service Commendation Medal
Air Force Commendation Medal with one oak leaf cluster
Army Commendation Medal
EFFECTIVE DATES OF PROMOTION
Second Lieutenant 7 February 1997
First Lieutenant 7 February 1999
Captain 7 February 2001
Major 1 September 2006
Lieutenant Colonel 1 January 2012
Colonel 1 June 2018