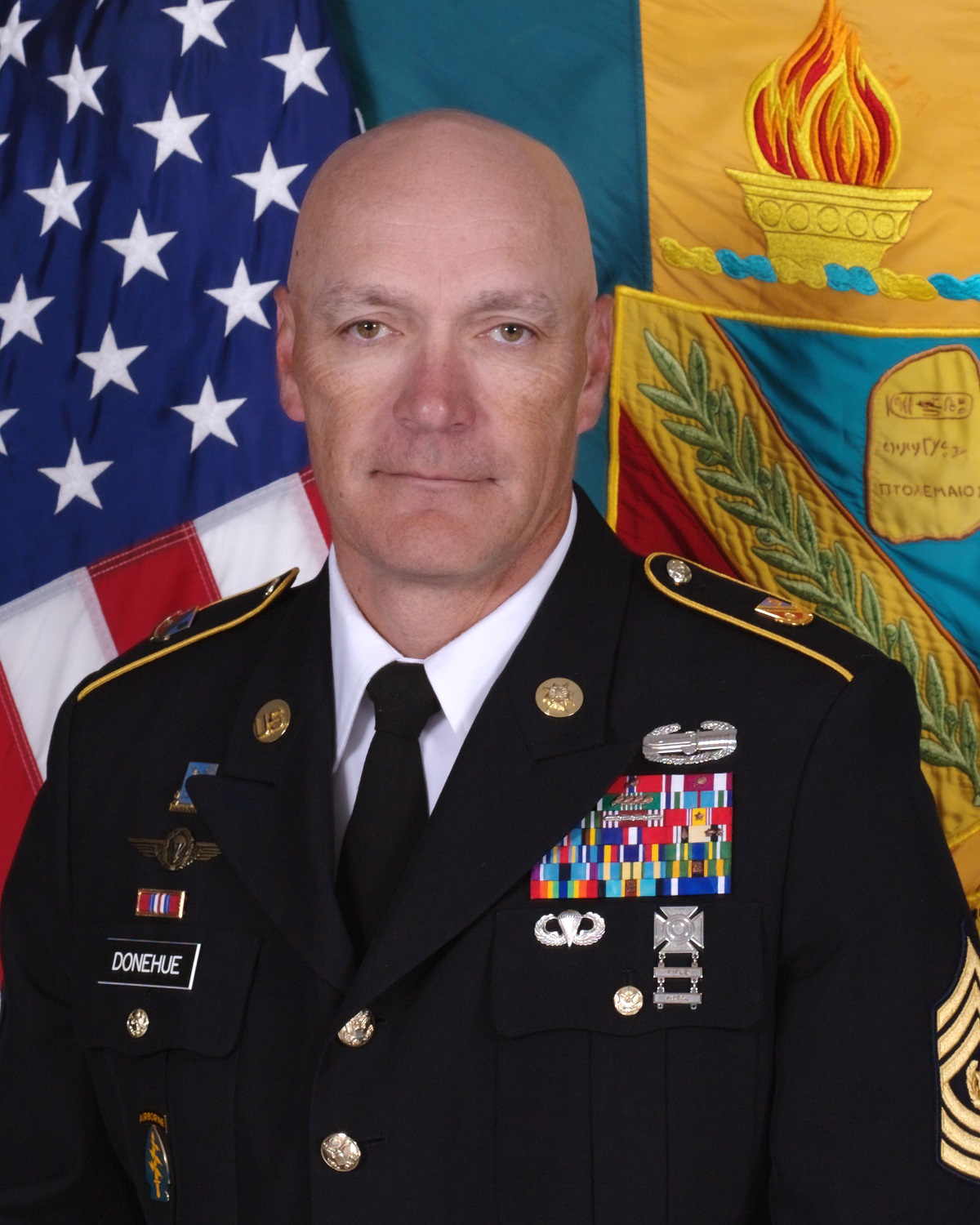 Thomas B. Donehue
Command Sgt. Major Donehue is a native of Varnville, South Carolina; he enlisted in the Army in May 1992 as a cryptologic linguist. He attended basic training at Fort Dix, NJ, the Arabic Basic Course at the Defense Language Institute Foreign Language Center, Presidio of Monterey, CA with follow on training at Goodfellow Air Force Base, San Angelo, TX.
Command Sgt. Major Donehue has served in every leadership position from Team Leader to Battalion Command Sergeant Major. His stateside assignments include Fort Bragg, North Carolina; Fort Carson, CO; Fort Gordon, GA; Fort Huachuca, AZ; and DLIFLC, Presidio of Monterey, CA. His overseas assignments include ARCENT support Saudi Arabia and Camp Hovey, Republic of Korea. He has deployed to Saudi Arabia, Kosovo, the Republic of Georgia, and Iraq in support of both combat and peacekeeping operations.
Command Sgt. Major Donehue's military education includes the Primary Leadership Development Course, Basic Noncommissioned Officers Course, Advanced Noncommissioned Officers Course, Company Commander / First Sergeant Course, Intermediate Arabic Course, the Basic Persian-Farsi Course, Airborne School, Jumpmaster Course, the Master Resiliency Course, and the United States Army Sergeants Major Academy.
He earned a Bachelor's of Science degree from Excelsior College.
Command Sgt. Major Donehue's awards include the Bronze Star (2nd award), Meritorious Service Medal (3rd award), Army Commendation Medal (5th award), Joint Service Achievement Medal, Army Achievement Medal (third award), Army Good Conduct Medal (8th award), Armed Forces Expeditionary Medal, Kosovo Campaign Medal, Iraqi Campaign Medal (2nd award) with Arrowhead Device, Global War on Terrorism Expeditionary Medal, Global War on Terrorism Service Medal, Korean Defense Service Medal, NCO Professional Development Ribbon (4th award), Humanitarian Service Medal, Military Outstanding Volunteer Service Medal, Army Service Ribbon, Overseas Service Ribbon, NATO Service Medal, and the Airborne badge.
Command Sgt. Major Donehue is married and has four children.