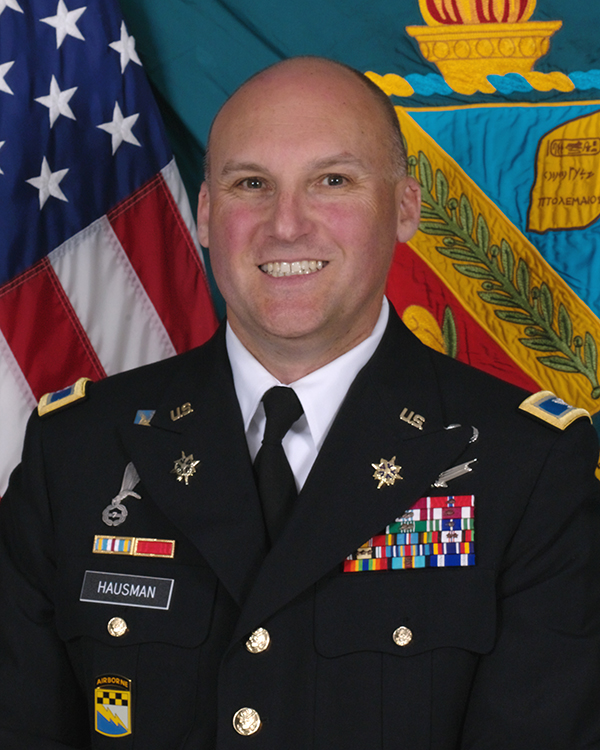 Colonel Gary M. Hausman
Colonel Gary Hausman was commissioned in the U.S. Army in 1994 as a Military Intelligence Officer from the University of California at Irvine. He was initially assigned to the 4th Infantry Division at Fort Carson, Colorado and served as a MI Platoon Leader, Assistant Battalion Intelligence Officer, Headquarters Company Executive Officer, Battalion Intelligence Officer, and Company Commander.
He was later assigned to the National Security Agency at Fort Meade, Maryland. During the next three years, he participated in the NSA's Junior Officer Cryptologic Career Program as an intern learning the inner-workings of NSA and becoming a professional Signals Intelligence Officer.
His next assignment was as the Cryptologic Services Group Officer in Charge at the Joint Special Operations Command at Fort Bragg, North Carolina. During this assignment, he deployed multiple times to Operation Iraqi Freedom and Operation Enduring Freedom.
Following graduation from Command and General Staff, he returned to Fort Bragg and served as a Battalion Operations Officer and Executive Officer as part of the 525th Battlefield Surveillance Brigade's deployment to OIF 2007-2009. Upon redeployment, he was competitively selected to return to the Joint Special Operations Command as their Liaison Officer at NSA, Fort Meade, Maryland.  In 2012, Col. Hausman assumed command of the 743rd Military Intelligence Battalion, Buckley Air Force Base, Denver, Colorado, and in 2014 deployed to Afghanistan as a Liaison Officer in support of the Special Operations Joint Task Force-Afghanistan.
Upon return to the U.S. and completion of the Army War College Interagency/Cyber Fellowship Program at NSA, Col. Hausman served as the Executive Officer to the Commanding General of Army Cyber Command and then the Deputy Chief of Staff, U.S. Cyber Command.
His awards and decorations include the Legion of Merit, Bronze Star Medal (1 OLC), Defense Meritorious Service Medal (2 OLC), Meritorious Service Medal (1 OLC), Army Commendation Medal (2 OLC), Army Achievement Medal (1 OLC), Armed Forces Expedition Medal, Iraq Campaign Medal, Afghanistan Campaign Medal, Global War on Terrorism Service and Expeditionary Medals, Joint Meritorious Unit Commendation, the Army Parachutist Badge and foreign jump wings from Poland.
Col. Hausman is married and has two sons.