The military has played a vital role on the Monterey Peninsula since the area was "discovered" and claimed for Spain by Sebastian Vizcaino in 1602. Vizcaino named the Monterey Bay, in honor of his benefactor, Gaspar de Zuniga y Acevedo, Conde de (count of) Monterrey, then viceroy of New Spain (Mexico).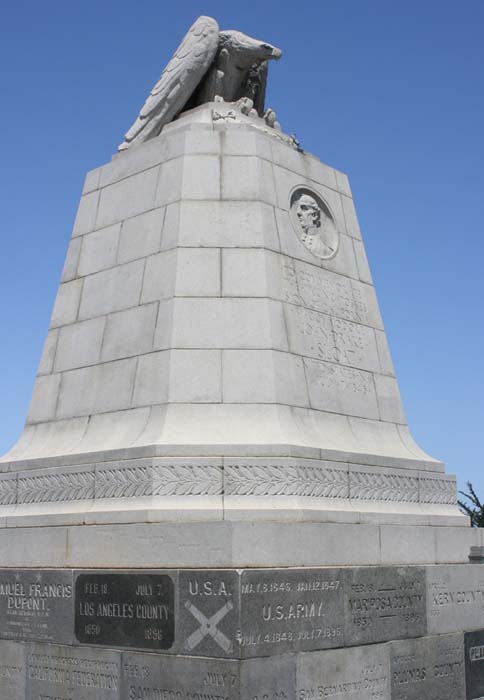 Sloat Monument, commemorating John D. Sloat, a commodore in the United States Navy who, in 1846, claimed California for the United States.
A History of the Presidio of Monterey, 1770 – 1970
In 1970, DLIFLC Commandant Kibbey M. Horne, a U.S. Army colonel who also held a Ph.D. in linguistics and had a love for history, penned a short pamphlet to describe two centuries of Spanish, Mexican, and American military presence in Monterey.  The pamphlet followed Horne's efforts to open the U.S. Army's Presidio of Monterey Museum in 1968, which operated on the lower Presidio until the closure Fort Ord in the early 1990s.
Horne's original pamphlet has stood the test of time and remains a useful primer.  Horne covers those essential events that any historically minded person needs to know to understand the role that the "Presidios" of Monterey have played in the development of California.
Noting all of this, the DLIFLC Command History Office republished the pamphlet in 2000 with an afterward by Command Historian Dr. James McNaughton.  In 2007, the City of Monterey again republished the work with an emphasis on improving the quality of the graphics it presents.  Today, the Command History Office continues to rely upon Horne's classic pamphlet for a variety of educational purposes.
To download, click here or on the cover image.