The Defense Language Institute Foreign Language Center and members of the Air Force's 517th Training Group said goodbye to one commanding officer and welcomed a new one during a formal change-of-command ceremony at the Presidio of Monterey June 26.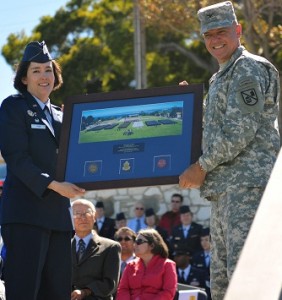 The institute bid farewell to Assistant Commandant and Commander of the 517th Training Group, Air Force Col. Laura Ryan, and welcomed Air Force Col. Ginger Wallace during the event at Soldier Field.
Air Force Col. Kimberlee Joos, Commander of the 17th Training Wing, Goodfellow Air Force Base, Texas, who presided over the ceremony, said she had served with Ryan at McConnell Air Force Base, Kan. at the beginning of their officer careers and "knew she was destined for great things."
Ryan was awarded the Legion of Merit for her outstanding service as commander of the 517th Training Group and assistant commandant of DLIFLC. The citation stated that her "work on linguist reclassification and discharge processes assured the retention of the best Airmen and saved the Air Force over $24 million dollars."
"Colonel Laura "Cricket" Ryan has been the exact right commander … She has superbly led over 130 permanent party staff and over 3,100 Air Force students during her two-year command, driving graduation rates 15 percent higher than the institute average," said Joos, referring to Air Force service members who either attended or served on staff at DLIFLC, attended by all four branches of the service.
In a letter sent by Congressman Sam Farr, and presented by his representative, Alec Arago, Ryan was praised for her work at the institute saying, "Col. Ryan has performed exemplary work in helping to improve the internal management of the Institute's faculty and staff. It's a job that goes largely unnoticed from the outside, but one that is vitally important for the future of DLI in particular, and military language training in general."
"Thank you for a wonderful experience," said Ryan, to an audience of nearly all DLIFLC leadership, community leaders, faculty and staff. "My family and I will miss Monterey, but I leave you in capable hands," she said. Ryan's next assignment will be at the Air Force Intelligence, Surveillance, and Reconnaissance Agency at Lackland Air Force Base, Texas.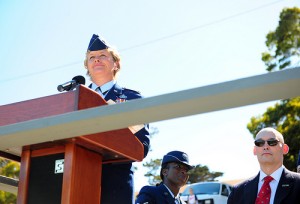 The incoming assistant commandant comes to DLIFLC from Afghanistan where she spent a year deployed as an Afghanistan/Pakistan Hand, a program that requires language and culture training and is designed to build partnerships and strengthen ties between International Security Force members and Afghan nationals.
"Col. (Danial) Pick, Dr. (Betty) Leaver and the Defense Language Institute faculty, I look forward to being part of this incredible organization to ensure we provide the best possible academic and learning environment for the Department of Defense," said Wallace, addressing the institute commandant and provost.
As the assistant commandant, Wallace will be in charge of overseeing the institute's 24 academic foreign language programs, 31 sites worldwide, testing development and administration, and more than 2,600 faculty and staff.

Story and Photo Credits
Story by Natela Cutter, DLIFLC PAO
Photo 1: Outgoing DLIFLC Assistant Commandant, Col. Laura Ryan, receives a gift from DLIFLC Commandant Col. Daniel Pick during a change of command ceremony on Soldier Field June 26. (Photo by Natela Cutter/released)
Photo 2: Col. Ginger L. Wallace became the third commander of the Air Force's 517th Training Group, relieving Col. Laura M. Ryan in a Change of Command Ceremony held at Soldier Field on June 26. Photo by Steven Shepard / released)
---
Posted Date: 26 June 2013