Standardization and Academic Excellence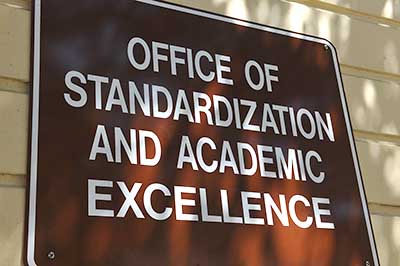 The Office of Standardization and Academic Excellence (OSAE) serves as the principal advisory element for the Provost and the Command Group on academic leadership, quality assurance, and standardization of best classroom, academic program, and support practices throughout the institute. OSAE relies on available research, data collection and analysis, and inter-organizational collaboration to identify scalable and sustainable improvements to meet the institute's mission production and proficiency requirements.
OSAE consists of four senior subject matter experts in their respective fields, or senior advisors, who report to the Provost. The senior advisors function at the level of Associate Provost and possess qualifications and experience appropriate to that level. OSAE reviews and assesses initiatives and other matters brought forth by the Provost, Command Group, DLIFLC directorates, schools, and OSAE. A military advisor is assigned to OSAE to provide a military perspective on matters relevant to OSAE's functional areas as well as critical liaison capabilities with the military service units at DLIFLC. The military advisor to OSAE is a commissioned officer or senior noncommissioned officer.