Language Day 2021 has been cancelled
Language Day is our opportunity to share the secret we at DLIFLC have all discovered – knowing a foreign language opens windows to the world! We encourage the general public, from communities near and far, to join thousands of people who annually take advantage of this opportunity to visit our world-renowned military language institute during its open house. You will get to see our students perform and enjoy music, dances, food and culture from every corner of the globe.
DLIFLC Language Day event will kick-off at 10:00 am and last until about 3:00 pm. Activities consist of classroom demonstrations, cultural exhibits, outdoor entertainment, and plenty of international food and souvenir vendors.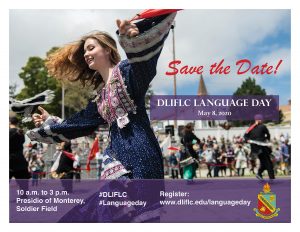 Once the Language Day Program becomes available, you will be able to download it by clicking on the image on the left.
Photos by visitors are permitted during Language Day, in the event area ONLY. For additional questions please contact MPAO@dliflc.edu at least 24 hours prior to the event.
Things to consider bringing to the event: jacket/raincoat (in case of rain or cold weather), cash (food vendors onsite), sunblock and water. Due to security measures, you may not be able to bring bags (i.e. backpacks, oversized bags, etc.) into the event area.
Please be advised that DLIFLC does not provide transportation to this event.
Due to security measures and limited parking, please plan on arriving early. Personal vehicles will be able to park at the Presidio of Monterey Museum and only school buses will be allowed on base.
Visitors who park at the Presidio Mueum will be able to use DLI provided shuttles to reach Soldier Field, where the event takes place.
To contact the DLIFLC staff for specific questions, please contact us using: Language_Day@dliflc.edu; or call (831) 200-4211.
Businesses interested in participating in the Language Day event, can find "how to" info on this page. To download an application package please click here.

To see photos from prior Language Day events, please visit our Flickr page.