Language Day 2024
Friday, May 17th – 10:00 AM to 3:00 PM
at the Presidio of Monterey
Language Day Passport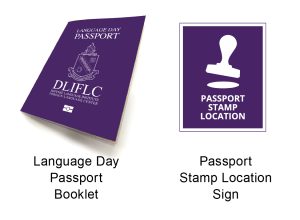 Fill up your passport with stamps by visiting the Cultural Display Tents! 
Passports will be handed out to any students who would like one when they arrive at DLIFLC.
It's that time again! Language Day is here!
This year's activities and attractions will consist of a day full of outdoor entertainment. There will be live cultural performances on the main stage, language and cultural exhibits around the event grounds.
There will be 20+ food vendors on hand offering a noteworthy selection of international foods and beverages!
Visitor Registration
Registration for high school classes to attend Language Day will be open beginning January 2024.
Individual DLIFLC students and faculty family members do not need to register to get onto the Presidio.
Event Times
Gates open for guests at 8:00 a.m.
Language Day activities will start at 10:00 AM with the National Anthem and last until about 3:00 PM.
Parking and Transportation
Please be advised that DLIFLC does not provide transportation to this event.
Due to security measures and limited parking, please plan on arriving early. Personal vehicles will be able to park at the Presidio of Monterey Museum.
Visitors who park at the Presidio Museum will be able to use DLIFLC provided shuttles to reach Soldier Field, where the event takes place.
Photography
Photographs of the performances and the event activities are permitted during Language Day in the event area ONLY.
Onsite Information
We will have information at our Welcome Tent located at the main entrance of Soldier Field. We will also have Information boards located around the event for your convenience!
First Aid
Check the Event Map for the First Aid tent location. The First Aid Tent will be located on the platform on the westside of Soldier Field. If you need medical assistance, look for the tent, or ask someone to assist you in finding it.
What to Bring
Things to consider bringing to the event:
Jacket/raincoat (in case of rain or cold weather),
Cash (food vendors onsite). There will be ATMs at the event.
Sunblock
Water
Positive attitude & big smiles
What not to Bring
Due to security measures, you may not be able to bring bags
(i.e., backpacks, oversized bags, etc.) onto the Presidio of Monterey.
NO weapons, fireworks, or explosives
NO alcohol or illegal substances
NO butane
NO drones or aircraft.
NO pets (legitimate service animals as covered by law)
NO chairs, tents, pop-ups, canopies, or umbrellas
NO Laser pens or similar focused light devices
NO unauthorized vendors
NO unapproved pamphlets, handouts, advertisements, and promotional materials (including stickers, vending items, etc.)
Language Day Passports
Take a journey around the world with the help of the DLIFLC faculty and fill up your Language Day Passport with stamps along the way.
Passport stamps are located at different language and culture tents. Keep an eye out for the purple passport stamp signs and remember to have fun learning about the world's many different cultures.
For additional information or specific questions please feel free to contact the DLIFLC staff, by email at: Language_Day@dliflc.edu.