Welcome to the DLI-Washington Office
The DLI-Washington office, situated in the District of Columbia, is a satellite office for DLIFLC headquartered in Monterey, California. The office has three primary functions:
Administer the Contract Foreign Language Training Program (CFLTP), providing full-time resident instruction for military linguists, Defense Attaché System (DAS) personnel, and for other language training requirements which cannot be met through regularly scheduled courses at DLIFLC at the Presidio of Monterey
Represent the DLIFLC Commandant in the National Capital Region, acting as a liaison to DoD and other government agencies, as well as academic organizations.
Provide training and certification for presidential translators who serve the Washington-Moscow Direct Communications Link (MOLINK).
Academic Information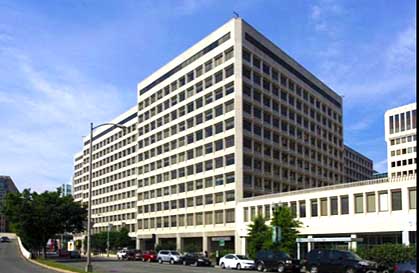 Once a student  has begun studying a particular language, he or she will be engaged full time in this activity. This means that the student is assigned no other duties during the training period, while rare exceptions are made for flag officers, SES-equivalents, and spouses.
Due to the nature of the training program, classes tend to look and feel different from how they might be conducted at DLIFLC in Monterey. The contracted learning institutions are free to use whatever methods and materials they feel will enable students to reach their objectives. Flexibility in curriculum is key to adapting to the special learning needs of a particular student.
Students at DLI-Washington are assigned proficiency level objectives based on the language they are studying, the length of the course, and their background. These objectives are stated in terms of the USG Interagency Language Roundtable (ILR) Skill Level Descriptions. The objective for most basic courses is level 2 in all tested skills.
Most students are tested at the end of their courses using a DoD-approved proficiency test. The skills tested, the format of the test, and the delivery system all vary by language. The student will be notified of the type of test they will be taking during the academic in-processing at DLI-Washington. Additional briefings during the course about testing will be made available for specific information.
To learn more about the Defense Language Proficiency Test click here.
DLI-Washington only provides language training for students who have been assigned by their respective Service or Agency. Requests for training are not directly accepted from units or individuals; the request must go throughDLIFLC channels and the Scheduling Division in Monterey which determines how and where the requirement can best be satisfied.
Incoming students should contact DLI-Washington immediately upon receipt of orders or a training schedule for further information regarding the location of training.
In addition, non-Defense Attaché Service students should call DLI-Washington no later than two weeks prior to their start date to schedule academic in-processing. Students with assignments/orders to DLI-Washington should fill a Student Questionnaire immediately upon receipt of orders and return to DLI-Washington via fax 703-692-1056 or email.
Request for Spouse Language Training at DLI-Washington:
Effective January 04, 2021, DLI-Washington no longer supports separate classes for spouses or part-time, online classes for spouses. All spouse training is full-time, resident training in the same class as the service member sponsor. No changes are permitted once enrolled. Although the Student Questionnaire provides a Spouse training interest block, there is no guarantee of spouse language training.
Students who wish to attain spouse training need to contact their respective service quota manager and complete the spouse training request form. The form must be sent back to DLI-W no later than 45 days from the beginning of language training as is it takes approximately six weeks for DLI-W to put training on contract.
Before completing the enrollment form, DLI-Washington strongly encourages each spouse to carefully assess the amount of time and resources they have available to commit to training. Once training has been secured, no changes are permitted. For spouses who need to change their training status will need drop the course.
Spouses opting to take full-time training are subject to the same academic policies and procedures for time and attendance, participation, testing, and professional standards as the service member sponsor.
Students will need to in-process both at DLI-Washington and their respective Service unit or Agency. Students need to complete all in-processing and housing arrangements prior to the class start date.  For more information please download and consult our student handbook.
For service-specific information please go to the DLI-Washington New Students page.
In the event of a national or natural emergency during the duty day, accountability will be established through contact with the training facilities. Accountability during off-duty hours will be established by calls to the routine and emergency contact numbers provided at in-processing. It is the student's responsibility to keep this information current.
Students who are not available at those numbers should contact the DLI-Washington Office at (703) 692-5478 (office land lines) or (703) 400-0632 or (703) 901-6132 / (703) 371-5957 (office cells).
The DLI-Washington Office Emergency Action Plan directs you to remain in place and follow guidance issued by the Office of Personnel Management through DLI-Washington and the respective schools.
Further guidance is provided by official announcements on radio (especially all-news WTOP 1500 AM or 103.5 FM), on local TV stations, or on-line at the Office of Personnel Management web site.
If these announcements say that the Federal government is closed, or that only "essential" personnel need to report for duty, classes will not be held. If a "liberal or unscheduled leave" or "delayed arrival" policy is in effect, students will report to class on time.
Students should be guided only by announcements pertaining to Federal government employees. Closings announced for locations where the training facility is located or where one resides, such as Fort Meade, or local jurisdictions such as the District of Columbia, Prince George's County, Alexandria, or Fairfax County, do not pertain to DLI-Washington students.
Q. How can I get training at DLI-Washington? A. DLI-Washington only provides language training for students who have been assigned by their respective Service or Agency. DLI-Washington does not accept requests for training directly from units or individuals; the request must go through channels through the Service language quota manager or assignment personnel, which will determine if and where the requirement can best be satisfied.
---
Q. Is leave authorized during training at DLI-Washington? A. DLI-Washington leave policy: We observe all Federal holidays and we also observe a training holiday the Friday after Thanksgiving. Winter holiday break normally lasts about ten days, depending on how the calendar falls. Students enrolled at the FSI(link) will follow that institution's schedule. A one-week leave break is scheduled for students who are enrolled at commercial contract schools for a period of training in excess of 27 weeks not otherwise interrupted by the winter holidays or other courses, such as in the case of Defense Attaché System students. Incoming students are highly encouraged to schedule leave prior to the beginning training, especially those who will not meet the criteria for an academic break.
---
Q. What is the daily schedule at DLI-Washington? A. Training at DLI-Washington is conducted five days a week during normal duty hours (generally between the hours of 8 am and 5 pm). The amount of time spent in the classroom each day varies and can last between four and six hours, depending on class size and facility. In addition, students are expected to spend several hours each day in out-of-class preparation activities, including studying and homework.
---
Q. What is the duty uniform? A. Appropriate civilian clothing is authorized but not required. Therefore, a civilian clothing allowance is not authorized. Proper military appearance and grooming standards apply when wearing civilian clothes.
---
Q. Where are language classes taught at DLI-Washington? A. Unlike DLIFLC at Monterey, DLI-Washington has neither its own staff instructors nor classrooms. Language classes are held either at one of a number of commercial contract schools in the Northern VA/DC Metro area, or at the State Department's FSI in Arlington. All commercial schools used by DLI-Washington are within walking distance of a Metro stop. Military students in PCS status are eligible for the
DoD Mass Transit Subsidy Program
to help offset the costs of commuting.
---
Q: Can I choose where and when I attend class? A: DLI-Washington's mission is to provide the most effective training for each student. A rigorous contracting selection process guides this effort, which includes many different factors, including, but not limited to the school's internal scheduling issues, a student's background and impending assignment, as well as the school's ability to staff a course with qualified instructors. Convenience to the student is not an allowable selection criterion. However, unique student circumstances which can impact this decision may be taken into consideration.
---
Q. Will I be issued DLIFLC materials to study? A. Each commercial contract school is responsible for providing DLI-Washington students with all educational materials needed for instruction, including dictionaries, textbooks, reading and audio materials. In some cases, the schools may elect to use DLIFLC-produced material to supplement their own materials. Also, for some of the low-enrollment languages, there may not be much instructional material available, either commercially produced, from FSI, or from DLIFLC. Therefore, the schools may have to use material gathered from a variety of sources rather than a complete "packaged" curriculum.
---
Q. Where will I be assigned while at DLI-Washington, and where will I receive administrative support? A. Navy and Air Force personnel are assigned to DLI-Washington, with administrative support provided by
Joint Base Anacostia-Bolling
. United States Marine Corp and Army personnel are not actually assigned to DLI-Washington. Instead, they are assigned to their respective Services' "holding units" in the Washington, D.C. area, and receive all administrative support (including in- and out-processing, housing, finance, etc.) through Service channels. However, DLI-Washington has staff from all military Services to assist students with getting support issues resolved. For more information, refer to the
New Students by Service
page.
---
Q. How can I get a transcript of training completed at DLI-Washington? A. A score report request can be made to DLIFLC in Monterey for some languages, which can be used can be used to obtain credit based on the levels achieved on the final test. In other languages, DLIFLC may be able to issue a transcript attesting to one's attendance and recommend undergraduate credits for certain courses completed.
---
Q: Can I get part-time, refresher, or sustainment training from DLI-Washington? A: Foreign language instruction at DLI-Washington is full-time training with no other duties assigned. Daily classroom hours vary from four to six hours depending on the size of the class. Part-time training is not authorized except under special circumstances which are subject to approval by DLI-Washington. DLI-Washington can meet full-time, validated and resourced training requirements for refresher, sustainment, or enhancement foreign language training, if received through Service or Agency channels. Due to the contract nature of the training program, DLI-Washington cannot supply materials to linguists to in the field. If a unit wishes to send an individual to one of the contract schools for periodic refresher training, this can be arranged directly between the unit and the contractor without DLI-Washington involvement, using the GSA Schedule or other procurement vehicles.
---
Q. Can I get a foreign language proficiency test administered at DLI-Washington? A. DLI-Washington is only authorized to test its enrolled students. Currently enrolled students needing annual re-certification in a language other than the one they are currently training in may coordinate to test at DLI-Washington. Other service members needing a DLPT or OPI examination should go to one of the Service/Agency testing centers in the National Capital Region.