The Navy's senior foreign area officer and director of International Engagement, Rear Admiral Douglas J. Venlet, told a group of more than 80 officers at a Foreign Area Officer Conference that their job is to use their unique language and culture skills in order to build and maintain international relationships and partnerships throughout their careers.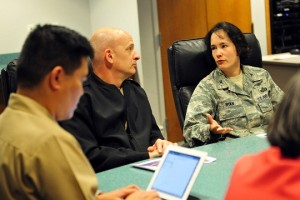 "We live in a globalized world. If we are not connected linguistically, we are out of the picture," Venlet said, at the Defense Language Institute Foreign Language Center in Monterey, Calif. "You need to be elite…Focus on the language you are studying now and get to that 3/3 level," he said, referring to a high level of foreign language proficiency. "Study, study, study. Don't settle for anything less than full capability," he advised.
Foreign Area Officers are a specialized group of officers from all branches of the service who possess a set of skills that come from a training program that involves formal study of a language, a period of in-country training in their Area of Responsibility, and attaining a master's degree in a field compatible with their focus. Because of their expertise, FAOs normally serve in U.S. Embassies around the world either as security assistance officers or as military attaches.
Venlet, a key note speaker during the four-day conference organized by the FAO office at the Institute, graduated from the Russian language program in 1974. Venlet told students that his FAO background led him on an interesting career path, which aside from "driving ships," also allowed him to work at the White House as the deputy executive secretary of the National Security Council in the executive office of the President.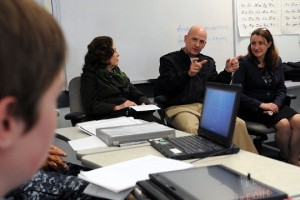 "I was in charge of fielding more than 180 calls between George W. Bush and (Russian President Vladimir) Putin. I worked for (Secretary of State Condoleezza) Rice and found out that she understands Russian very well, probably better than me," he recounted with a chuckle.
Venlet's career led him to being a senior military attach' at the U.S. Embassy in Moscow between 2010 and 2012.
"Since it had been a while since I graduated from DLI, I took a refresher course in 2009," he said, explaining that the course was facilitated through the DLI Washington D.C. office.
"I would like to emphasize to the FAO spouses that this career path is a family affair and that you are a part of the team," Venlet told spouses present. "My wife played an important role in establishing and maintaining bonds between families," he added, explaining that many relationships were formed with staff from other embassies of foreign nations, also stationed in Moscow. "Her ability to speak Spanish and Russian was invaluable."
Venlet also had an opportunity to receive a DLIFLC command brief, detailing the various programs of the Institute, visit a Russian classroom, and have lunch with service members.
Story and Photo Credits
Story by Natela Cutter, DLIFLC PAO
Photo 1: Rear Adm. Douglas J. Venlet, Director, International Engagement, center, speaks with Defense Language Institute Foreign Language Center Assistant Commandant Col. Laura Ryan about the changes that have taken place over time at the Institute since the mid 1970s. (U.S. Army Photo by Natela Cutter/Released)
Photo 2: Rear Adm. Douglas J. Venlet, Director, International Engagement, center, visits with students and staff at the Russian language schoolhouse at the Defense Language Institute Foreign Language Center at the Presidio of Monterey. (U.S. Navy photo by Mass Communication Specialist 1st Class Nathan L. Guimont/Released)
---
Posted Date: 12 June 2013