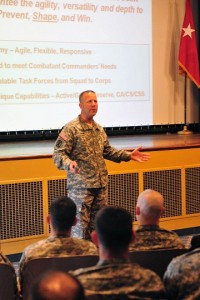 The director of Strategy, Plans and Policy Office of the Deputy Chief of Staff, G- 3/5/7, Army Maj. Gen. Jeffrey Snow, told a group of Foreign Area Officers that their future roles as regional language and culture experts will become even more important with the implementation of new concept called Regionally Aligned Forces that will organize military missions into five geographic regions over the next year.
"You will be the individual who will be translating ideas between the support command, theater objectives and building partnership capacity," he told a group of some 80 FAOs from all services attending the four-day long FAO Conference at the Defense Language Institute Foreign Language Center in Monterey June 10-13.
FAOs in the Army and other services are an elite group of officers who have a special set of skills that come from a training program that involves formal study of a language, a period of in-country training in their Area of Responsibility, and attaining a master's degree in a field compatible with their focus. Because of their expertise, FAOs normally serve in U.S. Embassies around the world either as security assistance officers or as military attache's.
"You are lucky to be here and train at DLI. The Chief is committed to leader development" said Snow, speaking about the Chief of Staff of the Army Gen. Raymond Odierno.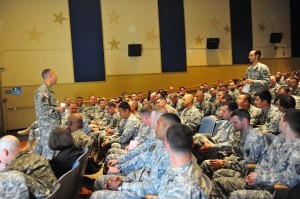 As a part of the Regionally Aligned Forces, units will now serve in direct support of the regional combatant commanders and are expected to participate in hundreds of missions that include joint exercises, partnership training, quick reaction forces, and humanitarian assistance.
Much of the initial coordination of these types of activities goes through U.S. Embassies abroad where military attaches serve as critical liaisons back to the Pentagon.
"Make no mistake, we are a great Army, respected by everyone…and all eyes are on us to see how we are going to respond," to certain political or economic situations in the world, explained Snow. "This is the beginning of your transition to the operational strategic level," he said.
Conference attendees were also addressed by Lt. Gen. Mary Legere, deputy chief of staff, G2, of the Pentagon.
Story and Photo Credits
Story and photos by Natela Cutter, DLIFLC PAO
Photo 1: The director of Strategy, Plans and Policy Office of the Deputy Chief of Staff, G- 3/5/7, Army Maj. Gen. Jeffrey Snow, speaks at the Foreign Area Officer Conference June 10 at the Defense Language Institute Foreign Language Center in Monterey, Calif. (U.S. Army photo by Natela Cutter / Released)
Photo 2: The director of Strategy, Plans and Policy Office of the Deputy Chief of Staff, G- 3/5/7, Army Maj. Gen. Jeffrey Snow, responds to questions after his briefing to Foreign Area Officers during a conference held at the Presidio of Monterey, Calif., June 10-13. (U.S. Army photo by Natela Cutter / Released)
---
Posted Date: 11 June 2013