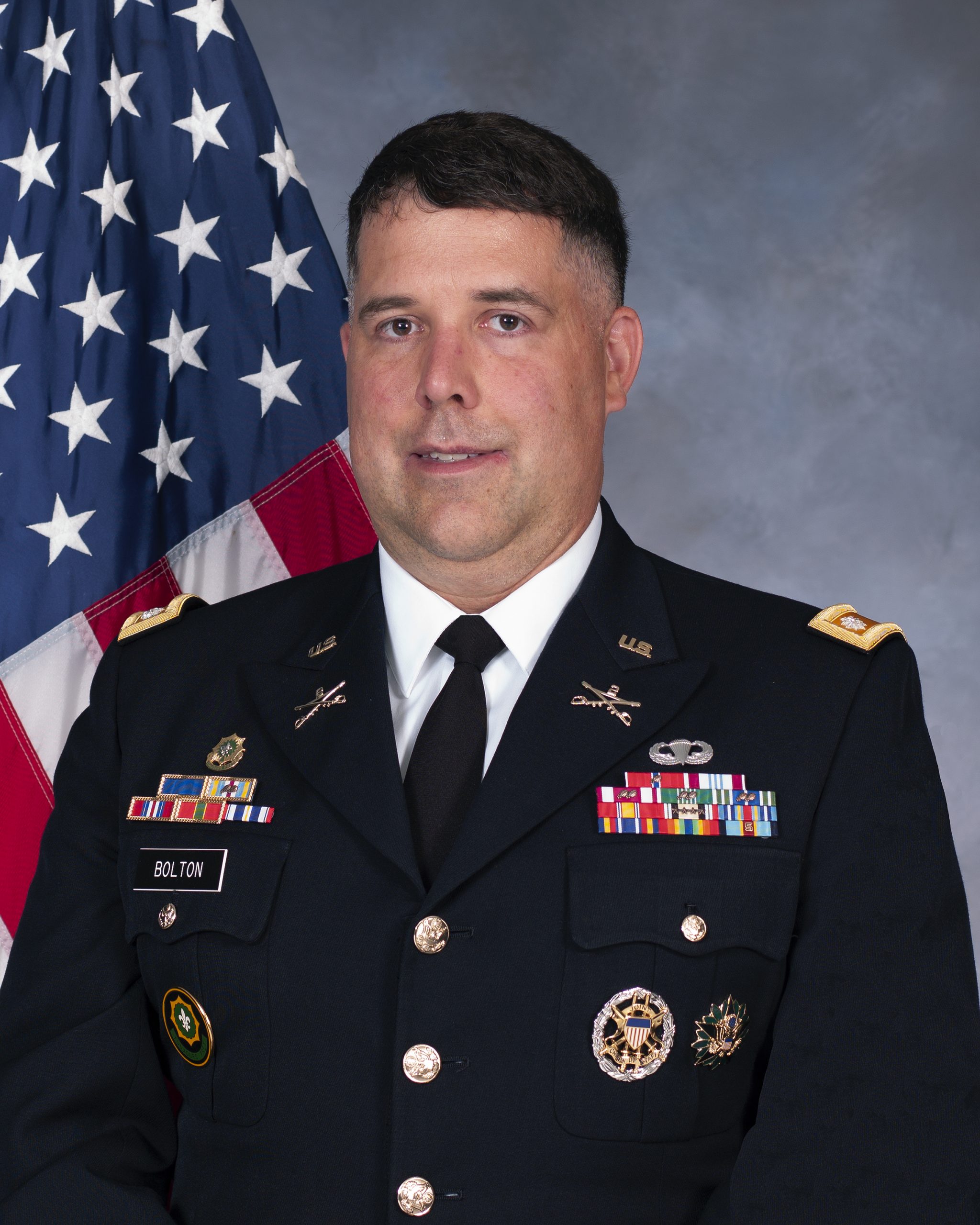 Lieutenant Colonel Daniel Bolton
Ltc. Bolton assumed duties as Director of DLIFLC's Foreign Area Officer Program in May, 2021. Prior to his assignment to DLIFLC, Bolton most recently served in the FAO Proponent office at HQDA G-3/5/7 Strategic Leadership Division as the FAO branch chief, Europe-Eurasia, and Western Hemisphere Regional Managers. His previous assignments were as U.S. Army Training and Doctrine Command Liaison Officer to Turkish Land Forces Training and Doctrine Command, as an analyst and branch chief with the Joint Staff Intelligence Directorate (J2) and Defense Intelligence Agency, as the Brigade Plans Officer at the 162nd Infantry Brigade at Fort Polk, Louisiana; as an Assistant Battalion S3 in 1st Battalion, 353rd Regiment, Fort Polk, Louisiana; as M Company commander and Assistant Squadron S3 in 3rd Squadron, 3d Armored Cavalry Regiment, Fort Hood, Texas, and Tal Afar, Iraq; as the Brigade Intelligence Advisor with 3rd Brigade, 2nd Iraqi Army Division at Qayyarah, Iraq; as a Liaison Officer to the Multinational Corps-Iraq Headquarters for the Iraq Assistance Group, Baghdad, Iraq; and as a Scout Platoon Leader and Troop Executive Officer with C Troop, 1st Squadron, 2d Armored Cavalry Regiment, Fort Polk, Louisiana, Baghdad, and Kut al Amara, Iraq.
Bolton was commissioned as an Armor Officer in 2000 after graduating from Texas A&M University, and designated into the FAO Corps as a Western Europe FAO in 2010. He holds a Master of Arts degree in International Relations from Boston University, Boston, Massachusetts (2014), an Associate of Arts degree in Turkish from the Defense Language Institute, Presidio of Monterey, California (2012), and a Bachelor of Science degree in Zoology from Texas A&M University, College Station, Texas (2000).
Bolton's military education includes the Armor Officer Basic Course, Scout Platoon Leader Course, Airborne School, Armor Officer Captains Career Course, Cavalry Leader Course, Defense Language Institute Turkish Basic Course, Turkish Land Forces General Staff College, and the Army Force Management School's How the Army Runs course. His awards and decorations include the Bronze Star Medal, Defense Meritorious Service Medal, Meritorious Service Medal, Army Commendation Medal, Army Achievement Medal, National Defense Service Medal, Iraq Campaign Medal, Global War on Terrorism Expeditionary and Service Medals, Overseas Ribbon, Joint Chiefs of Staff Identification Badge, Army Staff Identification Badge, and Parachutist Badge.
Bolton is married and has two sons.