In accordance with the DLIFLC Leadership Development Roadmap, the Center for Leadership Development is designing workshops for leaders of various levels across the Institute.
CLD has developed a series of workshops for faculty, team leaders and first line supervisors.
In addition to internally developed workshops, CLD expands leadership development opportunities through collaborating with a variety of governmental agencies, academia, and commercial training providers.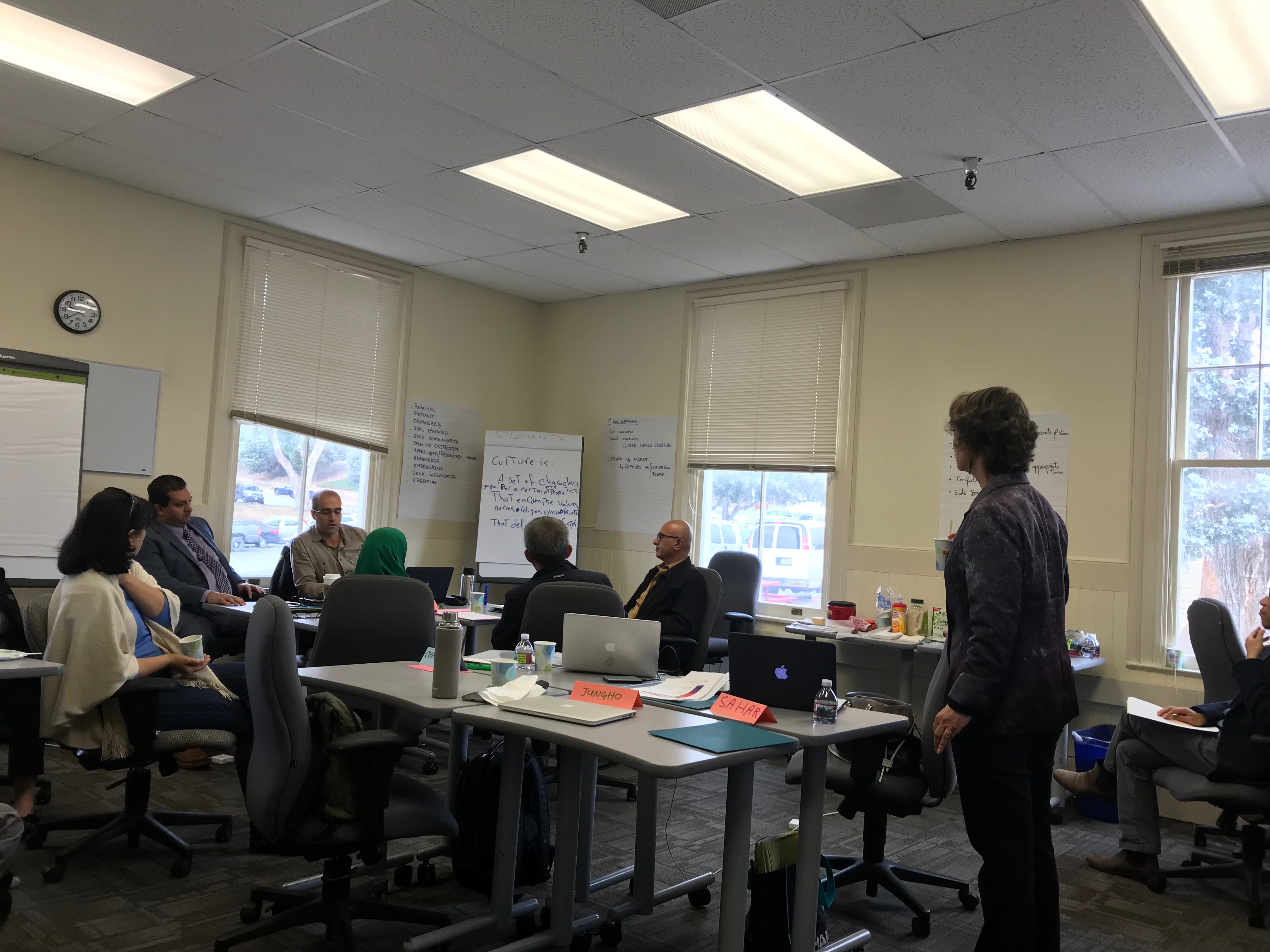 First Line Supervisor Workshops
CLD is in the process of designing and developing a series of two-day workshops for first-line supervisors. The first workshop, Foundations of Leadership, is an introductory module, which will introduce the various topics and include several diagnostic instruments which will be referred to in the following workshops. The following workshops can be taken in any order, after the Foundations of Leadership has been completed. The content of the workshops is based on the need assessment. The workshops will utilize an experiential learning approach where participants will apply gained knowledge to their own work settings.
Foundations of Leadership for First Line Supervisors
This workshop focuses on providing key aspects of leadership principles and challenges within DLIFLC context. This 2-day Foundations workshop is followed by five stand-alone workshops on the following topics: conflict resolution, communication skills, 1st line leadership, mentoring and coaching/developing people, and decision making.
The Foundations workshop is designed to help participants gain an understanding of the difference between leadership and management; become acquainted with different leadership and followership styles; develop an awareness of the impact of emotional intelligence in the workplace; build an awareness of intercultural dynamics in the workplace; become familiar with conflict resolution and mediation styles; develop the knowledge of six-step decision making process; and develop a grasp of DoD, Army, DLIFLC values as a leader.
Conflict Resolution
This workshop focuses on helping supervisors deal with conflict in the workplace by analyzing different frameworks for conflict, identifying sources of conflict, and why conflict occurs.
This 2-day workshop aims to develop strategies for dealing with conflict styles, understanding what make a team dysfunctional, applying strategies to mediate conflict in the workplace, addressing conflict across cultures, and understanding global styles and attitudes toward problem solving.
Decision Making
This workshop applies the six-step approach in Decision Making. It focuses on exploring a structured framework and strategies for priority setting, planning for the applicable situation. The workshop uses a series of structuring devices and tools and case studies to help participants arrive at the best possible decision through a rigorous process.
Team Leaders Workshop
Foundations of Leadership for Team Leaders
This 2-day workshop focuses on helping team leaders sharpen their organizational and communication skills. Participants explore the concepts of civility and conflict at the workplace; gain greater awareness and ability to work with the military; master Influencing without Authority; gain deeper appreciation of working with diverse personality types and cultural backgrounds
Team Building and Strategic Offsites
CLD provides an array of Team Building events tailored specifically for teams, departments and school houses. These events are aimed at building cohesive teams, improving communication, and building trust.
CLD coordinates, plans and leads Strategic Offsites for leadership teams to enhance productivity and build efficiencies. The Center utilizes a variety of tools to facilitate these events, i.e. SWOT analyzes, internal and external environmental scans, and cross functional interdependencies.
To schedule a team building or offsite for your team, contact CLD at: cldinfo@dliflc.edu
Governmental Training Opportunities
In addition to in-house workshops, CLD also collaborates with other government to maximize development opportunities for DLIFLC leaders. The Center has identified a number of courses, workshops and events from sources such as OPM and DOD leadership programs. CLD hosts some of these training events locally and also facilitates the enrollment of our leaders at remote locations.
CLD is also working to explore industry and academic leadership trends and educational opportunities.
Examples of the ongoing partnerships include, OPM Regional Leadership Program, Naval Post Graduate Defense Resource Management Courses, NCS Professional Learning Programs, and TRADOC Red Teaming and Critical Thinking Courses.
Guest Leaders and Speakers Program
CLD invites and hosts a variety of accomplished leaders and scholars to bring to DLIFLC faculty and staff the latest research and applications in the area of leadership development.
An example of this program, CLD hosted a workshop on Brain Dynamics for Effective Leadership. A link to the lecture, accessible only to DLIFLC faculty and staff, can be found below:
Brain Dynamics for Effective Leadership
Note: the link above is only accessible to DLIFLC faculty and staff.
How to Enroll in Workshops
CLD workshops are designed for team leaders and 1
st
line supervisors. If you are interested in attending any of the CLD workshops, please coordinate with your supervisor. CLD sends calls for nominations to each directorate on a monthly basis. If you have any questions about a particular workshop or other opportunities, send us an email:
cldinfo@dliflc.edu
Center for Leadership Development
Defense Language Institute Foreign Language Center
Building 206, Second Floor
(831) 242- 4341