Associate Provost for Undergraduate Education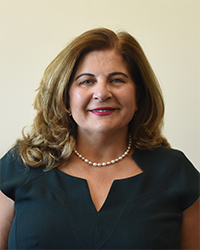 Dr. Hiam N. Kanbar
Dr. Hiam Kanbar has been engaged in foreign language pedagogy for over 30 years. She grew up in Lebanon, where she completed her undergraduate studies. She earned a Teaching Diploma from Beirut Teachers' Academy, and her Bachelor of Arts in Foreign Language Teaching, with a major in teaching French as a foreign language and minor in Arabic language and literature, from the College of Letters and Humanities of the Lebanese University, Beirut.
She subsequently moved to France to pursue her graduate studies at the University of Franche-Comté where she received a Master's degree and Doctorate degree with Highest Honors in the area of Applied Linguistics. Her dissertation was on Theories and Practices of Literary Texts in French as a Foreign Language.
Dr. Kanbar began her career as a foreign language teacher in Lebanon and France, joining DLIFLC as an Arabic instructor in 1991. She currently holds the rank of professor, and her work assignments have included test development at the Directorate of Evaluation and Standardization, as well as program management as chairperson. She has served as dean of three schools: Asian School III, Middle East School I, and the European and Latin American School. She currently serves as Associate Provost for Undergraduate Education and as the Deputy Institutional Official for Human Research Protections Program at DLIFLC.
In addition to her work in language teaching and testing, her research interests encompass spoken language in applied linguistics, as well as proficiency on cultural issues as they relate to the DLIFLC mission. In 2005 and 2006, she taught applied linguistics and Arabic at the Monterey Institute of International Studies. Over her career, she has made numerous presentations at DLIFLC, the American Council for Teachers of Foreign Languages conventions, Teachers of English as a Second or Other Language, and the Less Commonly Taught Languages conferences on "Cultural barriers in the foreign language classroom," "Understanding and achieving level 3 proficiency," and "Understanding and teaching the spoken language." Additionally, she serves as a referee for the Modern Language Journal and in the past served as a speaking evaluator for California State University at Monterey Bay, and an Oral Proficiency Interview tester for graduating students in Levantine at Yale University.
As part of her involvement in the community, she has served on the board of several non-profit organizations and is a member of several language and cultural associations. She served on the board of the Arab-American Club of the Monterey Peninsula and she is a member of the United Nations Association of Monterey Bay. She is also a member of the World Affairs Council, the American Association of Teachers of French, and the American Association of Teaches of Arabic.