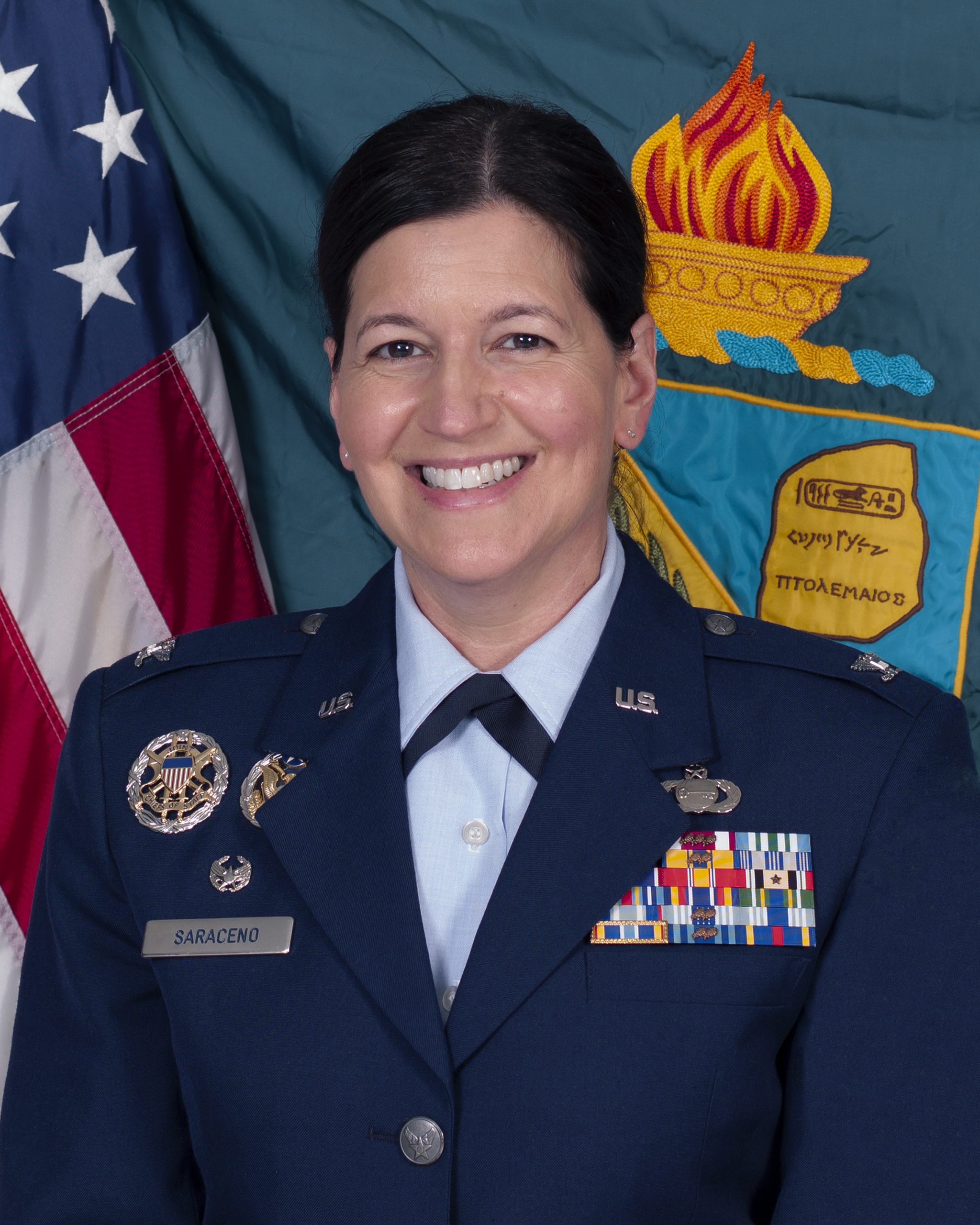 Col. Jennifer L. Saraceno
Colonel Jennifer L. Saraceno is currently serving as the Assistant Commandant, Defense Language Institute Foreign Language Center and the Commander, 517th Training Group, Presidio of Monterey, California. In this capacity, Colonel Saraceno directs language training for 34,000 Department of Defense personnel annually in 89 languages at 29 sites worldwide. She also oversees 1,800 faculty members and 250 joint-service staff providing language training, proficiency testing, and curriculum to train successful linguists. As the 517th Training Group Commander, Colonel Saraceno leads two Air Force squadrons composed of about 1,200 Airmen, the majority of whom are Air Force Cryptologic Linguist trainees.
Prior to entering the United States Air Force, Colonel Saraceno worked as a legislative assistant in the United States House of Representatives from January 1993 through March 2000. As a Senior Legislative Assistant and Military Legislative Assistant, she framed and supported execution of the Congressman's legislative agenda on issues ranging from health care and education to foreign affairs and defense. During this time, the Secretary of the Air Force invited her to attend the Air Command and Staff College Seminar on Capitol Hill, from which she graduated in October 1999.
Colonel Saraceno entered the Air Force through the Officer Training School at Maxwell AFB, Montgomery, Alabama. A career intelligence officer and U.S. Air Force Weapons School graduate, she has held several operational and staff positions, commanded an intelligence detachment charged with supporting space operations, and commanded the Air Force's largest airborne Intelligence, Surveillance, and Reconnaissance (ISR) flying squadron with over 550 Airmen crewing all variants of the RC-135 reconnaissance aircraft. She served on the Air Staff, the Joint Staff, and on the command staff for the Director, Defense Intelligence Agency. Colonel Saraceno deployed in support of and led intelligence operations for multiple contingencies to include Operations Noble Eagle, Enduring Freedom, and Iraqi Freedom.
EDUCATION
1992 Bachelor of Arts degree in Political Science, Bloomsburg University of Pennsylvania 1994 Master of Arts degree in Government, Lehigh University – Bethlehem, Pennsylvania 1999 Air Command and Staff College, Seminar, Washington, District of Columbia
2004 United States Air Force Weapons School, Nellis AFB, Nevada
2006 Squadron Officer School, Maxwell AFB, Alabama
2013 Air Command and Staff College (Top Third Graduate), Maxwell AFB, Alabama
2015 School of Advance Air and Space Studies (AU Ph.D. Candidate), Maxwell AFB, Alabama
2018 Eisenhower School for National Security and Resource Strategy, Ft McNair, Washington, District of Columbia 2021 MIT Seminar XXI Fellow, Certificate in Foreign Politics, International Relations, and the National Interest
ASSIGNMENTS
July 2000 – April 2001, Student, Intelligence Officer Course, Goodfellow AFB, Texas
May 2001 – May 2002, Chief of Intelligence, 35th Fighter Squadron, Kunsan AB, Republic of Korea
June 2002 – July 2004, Deputy Chief of Intelligence Systems and Resources, 33rd Operations Support Squadron, Chief of Intelligence Training, 33rd Operations Support Squadron and Chief of Intelligence, 58th Fighter Squadron, Eglin AFB, Florida
July 2004 – December 2004, Student, United States Air Force Weapons School, Nellis AFB, Nevada
January 2005 – December 2005, Chief, Intelligence Operations, 8th Operations Support Squadron and Wing Intelligence Weapons Officer, 8th Fighter Wing, Kunsan AB, Republic of Korea
February 2006 – December 2007, Deputy Intelligence Flight Commander and Chief of Intelligence Weapons, Tactics and Training, 563rd Operations Support Squadron, Davis-Monthan AFB, Arizona
December 2007 – June 2009, Action Officer, Chief of Staff of the Air Force Strategic Studies Group – CHECKMATE, Headquarters U.S. Air Force, Washington, District of Columbia.
June 2009 – June 2010, Branch Chief, ISR Strategy Futures – Deputy Chief of Staff, Intelligence, Surveillance, and Reconnaissance, Headquarters U.S. Air Force, Washington, District of Columbia.
June 2010 – June 2011, Deputy Chief, DCS/ISR Action Group – Deputy Chief of Staff, Intelligence, Surveillance, and Reconnaissance, Headquarters U.S. Air Force, Washington, District of Columbia.
July 2011 – July 2013, Commander, Detachment 4, 18th Intelligence Squadron, RAF Feltwell, UK
August 2013 – June 2014, Student, Air Command and Staff College, Maxwell, AFB, Alabama
July 2014 – July 2015, Student, School of Advanced Air and Space Studies, Maxwell, AFB, Alabama
June 2015 – July 2017, Commander, 97th Intelligence Squadron, Offutt AFB, Nebraska
August 2017 – June 2018, Student, Dwight D. Eisenhower School for National Security and Resource Strategy, Ft McNair, Washington, District of Columbia.
June 2018 – September 2020, VCJCS Special Projects Officer, Directorate for Intelligence, J2, The Joint Staff, Washington, District of Columbia
September 2020 – July 2021, Executive Officer to the Director, Defense Intelligence Agency, Washington, District of Columbia
July 2021 – Present, Assistant Commandant, Defense Language Institute Foreign Language Center and Commander, 517th Training Group, Presidio of Monterey
MAJOR AWARDS AND DECORATIONS
Defense Superior Service Medal
Meritorious Service Medal with four oak leaf clusters
Joint Service Commendation Medal
Air Force Commendation Medal with two oak leaf clusters Air Force Achievement Medal
National Defense Service Medal
Iraq Campaign Medal w/ Bronze Star
Global War on Terrorism Expeditionary Medal
Global War on Terrorism Service Medal
Korean Defense Service Medal
Air and Space Campaign Medal
Air Force Overseas Ribbon Short with two oak leaf clusters Air Force Expeditionary Service Ribbon with Gold Border
EFFECTIVE DATES OF PROMOTION
First Lieutenant – July 7, 2002
Captain – July 7, 2004
Major – June 1, 2010
Lieutenant Colonel – February 1, 2015
Colonel – January 1, 2021