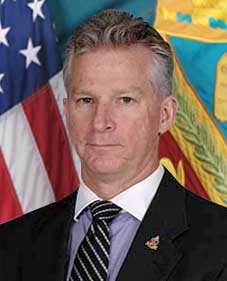 Mr. Steven Collins
Steven Collins is the Chief of Staff of the Defense Language Institute Foreign Language Center and the Presidio of Monterey. He is responsible for coordinating and providing full spectrum staff support for over 15,000 military language students and 2,000 staff and faculty posted at the Presidio of Monterey and at 31 locations around the world.
A 1983 distinguished graduate of the US Military Academy at West Point, he began his commissioned US Army service in Europe with the 8th Infantry Division, Mainz, Germany. From 1988-90, he was a rifle company commander in the 7th Infantry Division (Manchu Regiment). From 1990-92, he attended Yale University and earned his Master's Degree in European History (specializing in modern European Diplomatic History). Subsequently, from 1992-95, he was an Assistant Professor of European History, US Military Academy. Afterwards, he served as the Operations Officer, and then Commander, of the 6th PSYOP (now MISO) Battalion (the US European Command-oriented PSYOP formation). He was then the Chief of PSYOP Doctrine and Training at the US Army Special Warfare Center and School, and later the Chief, Analysis Branch, for US Special Operations Command. He was posted as the Chief of the Psychological Operations and Strategic Influence Branch at the Supreme Headquarters Allied Powers Europe, Belgium, from 2001-2004, where he was responsible for all military information support operations in Bosnia-Herzegovina, Kosovo, and Afghanistan.
His last assignment in uniform was as the Deputy Chief of Staff of Operations for the Defense Language Institute Foreign Language Center. After retirement from the uniformed military in 2006, he was the Dean for Field Support at the Defense Language Institute Foreign Language Center, with responsibility for over 100 academic faculty and staff, posted at 23 locations around the world. He is knowledgeable in the German and French languages. A dedicated participant in triathlons and a cyclist, he is married and has one daughter.