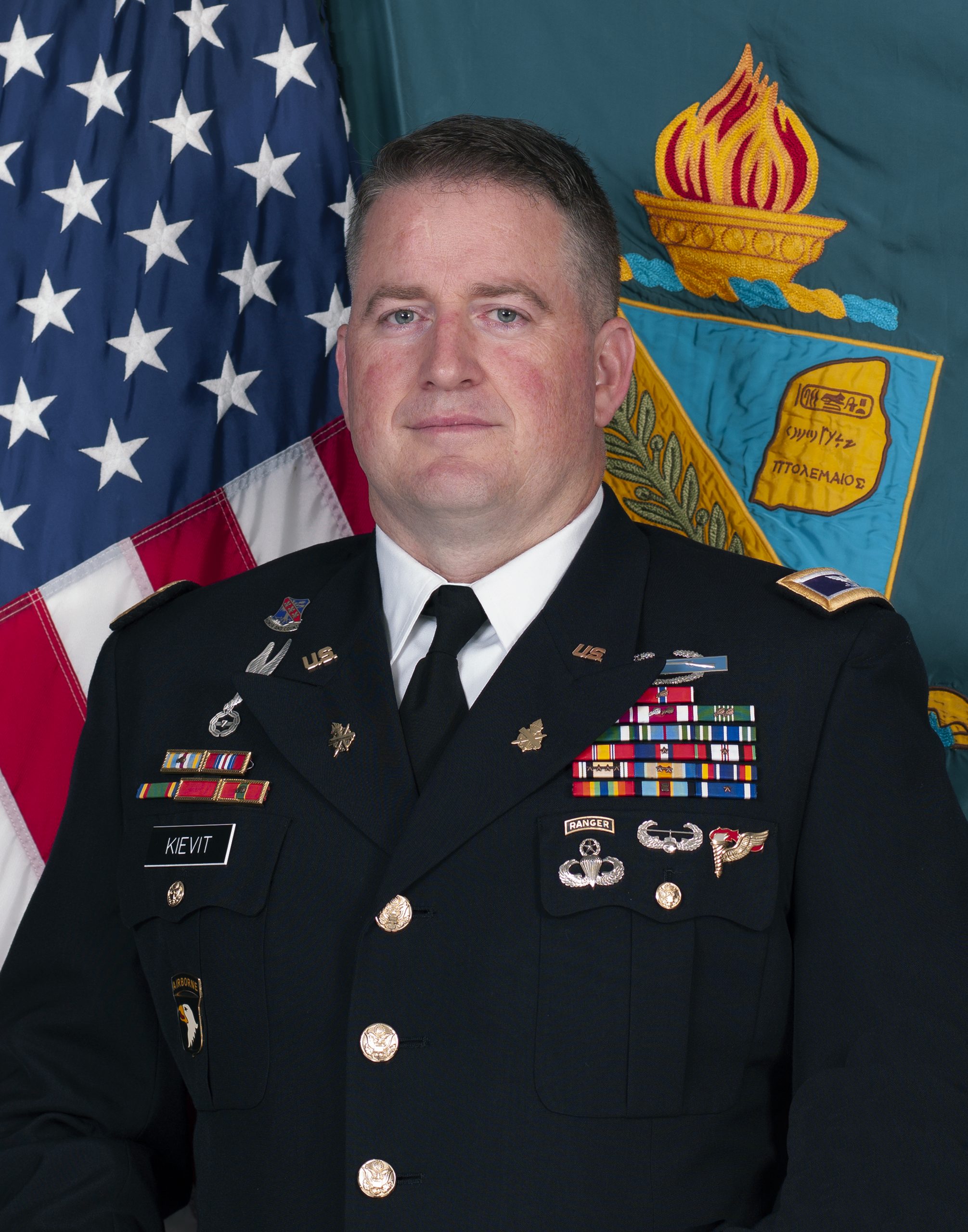 Colonel James A. Kievit
Colonel James A. Kievit is the 31st Commandant of the Defense Language Institute Foreign Language Center. He graduated as a Distinguished Military Graduate from Pennsylvania State University in 1998 and was commissioned a Second Lieutenant in the Infantry. His education includes a Bachelor of Science degree from PSU, and a Master of Arts in Global and International Studies from the University of Kansas. His military education includes the Infantry Officer Basic Course, Infantry Captains' Career Course, Combined Arms Staff School, Civil Affairs Qualification (J.F.K. Special Warfare Center), the U.S. Army Command and General Staff College, and the United States Army War College.
Col. Kievit's infantry assignments included duties as a rifle platoon leader, rifle company executive officer, and reconnaissance platoon leader and assistant operations officer, brigade planner and brigade headquarters and headquarters company commander.
Col. Kievit's previous civil affairs assignments included duties as a team leader, civil military operations center chief, and company commander at Fort Liberty, in Iraq, and in South America; as an air assault infantry brigade combat team civil affairs officer S9 at Fort Campbell and in Afghanistan; as a battalion operations officer at Fort Liberty, and as the assistant chief of staff, G9 for Civil Military Operations and Interagency Coordination in the 82nd Airborne Division at Fort Liberty and in Iraq, commander of the 98th Civil Affairs Battalion (Airborne) at Fort Liberty and in Iraq, and as the USSOCOM J39 Civil Affairs branch chief at MacDill Airforce Base.
Col. Kievit's deployments include a peacekeeping rotation in Kosovo and Operation Iraqi Freedom (04-05), Combined Joint Special Operations Task Force – Arabian Peninsula (07-08), twice in support of Special Operations Command – South (06-07, 09), Operation Enduring Freedom (10-11) and Operation Inherent Resolve (15 & 18).
His awards and decorations include the Bronze Star Medal, Defense Meritorious Service Medal, Meritorious Service Medal, Army Commendation Medal, Navy Commendation Medal, Joint Service Achievement Medal, OIR Campaign Medal (2nd Bronze Star), GWOT Service Medal (2nd Bronze Star), Kosovo Campaign Medal (1st Bronze Star), Iraqi Campaign Medal (4th Bronze Star), Afghanistan Campaign Medal (1st Bronze Star), the NATO Medal (Kosovo & ISAF). He is a fully joint qualified officer and has earned the Ranger Tab, Air Assault Badge, Pathfinder Badge, Master Parachutist Badge and German (Silver), Dutch, Polish and Latvian airborne wings, as well as the Combat Infantryman, Expert Infantryman and Combat Action Badges.
Col. Kievit is married and has two teenage sons.