By Natela Cutter
DLIFLC Public Affairs
More than 250 members of all four branches of the services and Department of Defense civilians attended a three-day Advanced Command Language Program Manager Workshop held at the Defense Language Institute Foreign Language Center Aug. 26-28.
The workshop was opened by DLIFLC Commandant Col. Gary Hausman, who welcomed the CLPMs. "Take advantage of this workshop…build relationships across services and agencies, exchange ideas, learn from each other," Hausman said, following an update about DLIFLC mission and initiatives to bring students to higher levels of proficiency.
Keynote speaker for the event was Sgt. Maj. Dennis Eger, Headquarters Department of the Army and the G-2 sergeant major at the Pentagon, who spoke extensively about service member language proficiency readiness.
"How many of you have language training plans ready?" he asked the room full of military and civilian CLPMs. "Plans are not something that can be done overnight. How did you design the training to lead up to readiness?" Eger asked, adding that preparation is key to keeping the force ready for future deployments.
Eger offered that one of the key elements of being an effective CLPM is "being the Commander's principal advisor… (even if) they don't want to hear this language thing, you are the principal advisor, it is your job," he said, addressing the common notion that foreign language is considered a soft skill and is often put to the side for training consideration.
New this year at the CLPM Workshop was the unveiling of the Helicopter Marine One foreign language program effort. HMX-1's program grew from one single Spanish-speaking Marine to a full-fledged CLP with more than 30 Marines, Sailors and civilians who are interpreting in support of operations across three continents.
"HMX-1 has no linguist requirement but they travel the world and are currently with the President in France," said Master Sgt. Ann Sagebiel, who spoke on their behalf at the event. "It is a voluntary program," said Sagebiel. While the year old program does not provide Marines with linguist pay, she said they were compensated with promotions, awards and extensive travel.
The large gathering of military and civilian foreign language community managers and leaders served as a perfect venue to give awards for the Department of Defense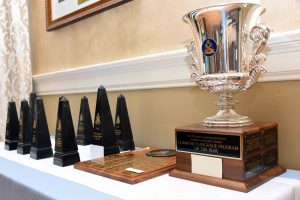 Command Language Professional of the Year and the Command Language Program of the Year.
The winner of the DOD's best Command Language Program of the Year for 2018 was the 500th Military Intelligence Brigade-Theater, Schofield Barracks, Hawaii. The award was accepted by CLP manager Daniel Wong.
The U.S. Navy took the DOD Language Professional of the Year program award. Other recipients for their respective services were Staff Sgt. Said Abouharia, of the 704t th Military Intelligence Brigade, Fort George G. Meade, Maryland; Sgt. Gregory Terpinyan, Headquarters & Support Company, Marine Cryptologic Support Battalion, Fort George G. Meade, Maryland, and Tech. Sgt. Samuel M. Han, 316th Training Squadron Goodfellow Air Force Base, San Angelo, Texas.
---
Posted Date: 28 August 2019