Electronics Technician 3rd Class Sonie Lasker, a student assigned to the Center for Information Dominance Unit (CIDU) Monterey and attending the Defense Language Institute Foreign Language Center (DLIFLC), is the reigning Women's World Martial Arts Champion and shares her knowledge, discipline and experience of the martial arts to fellow service members on and off the mat.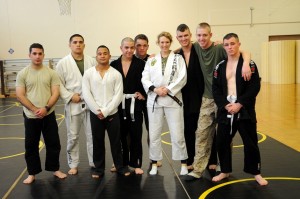 Before joining the Navy in 2010, Lasker was the team captain of the United States Martial Arts Team. She competed in over 500 tournaments worldwide and was a 14-time world champion.
Since arriving at DLIFLC, Lasker has taught many forms of martial arts to service members from the Air Force, Army, Navy, and Marine Corps five days a week at the Price Fitness Center on the Presidio of Monterey. Lasker trains service members in the art of Brazilian Jiu-Jitsu, Judo, and grappling.
"Martial arts and life in the military go hand in hand," Lasker said. "Martial arts are of high moral character and focus on the same core values as the Navy; honor, courage and commitment."
In addition to training in martial arts, Lasker maintains a 4.0 GPA in her foreign language class and spends after hours tutoring other students during separate study sessions throughout the week, including weekends.
Lasker continually strives to help build unit cohesiveness and supports the morale of her fellow service members.
"The responses that I've been receiving from the students here at DLIFLC, who come to my sessions [martial arts and tutoring], have been very humbling," said Lasker.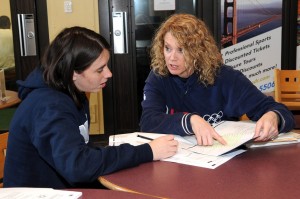 "I'm extremely appreciative of Petty Officer Lasker taking the time to help me understand how to read Farsi," said Seaman Adrienne Weaver.
"The tools that she has provided me during our Jiu-Jitsu training sessions is something I will take with me and use in my everyday life," said Lance Cpl. Elvis Costa.
In August, Lasker heard about the 2012 U.S. Open Brazilian Jiu-Jitsu Tournament taking place at Independence High School in San Jose, Calif. She started training her students for the competition.
After only two months, the team, called the Joint Service Martial Arts Machado Fight Team, was ready for the competition on October 6. There were over eight-hundred competitors and each match lasted about five minutes.
There were broken lips, bleeding, and dislocated joints within the first hour.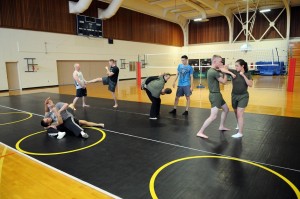 "There were a lot of injuries going on that I saw," said Lasker. "Luckily, the way that we train is to avoid major injuries. One of our competitors had a split lip, but that was the extent of it."
Every competition was intense and every white-belt gave it his/her all. They attempted to apply joint- locks, chokeholds, and pull guard as well as mount their opponents or throw them on their backs. All of the competitors from DLIFLC competed for more than six hours.
After the students were done competing, Lasker congratulated her students. "I am so proud of them," she explained. "They worked so hard, were respectful, remained combative and showed their training. They did a great job".
Story and photo credits
Story by Cryptologic Technician Interpretive 2nd Class (IDW) Deejin Macaraeg
Photos by MC1(SW/AW) Nate Guimont, Public Affairs Officer, CIDU Monterey
Photo 1. Petty Officer 3rd Class Sonie Lasker, fourth from right, stands with her martial arts students after a training session at the Price Fitness Center.
Photo 2. Petty Officer 3rd Class Sonie Lasker, right, provides tutoring to Seaman Adrienne Weaver during a study session.
Photo 3. Petty Officer 3rd Class Sonie Lasker, center, demonstrates a sweeping take-down while other service members train in other combatant moves of Brazilian Jiu-Jitsu.