By Tammy Cario
When you think of jobs that require foreign languages, air traffic controller is not usually first on that list. Especially since English is the international language of air traffic control.
"English language is a little more concise than other (major) languages," explained Air Force Tech. Sgt. Seth Norman, an air traffic controller and a Defense Language Institute Foreign Language Center student in the French department. "Like in French, sometimes you have to get a little wordy when you're trying to explain yourself. Whereas in English you can say things rather quickly, with one word meaning quite a few things. Time is of the essence in air traffic control."
Because English is the international language for air traffic controllers, training for a second language isn't a typical job requirement. Instead, Norman found a French-speaking position through the Enlisted Quarterly Assignments List Plus, or EQUAL Plus, which is a portal where unique jobs for certain Air Force Specialty Codes are listed.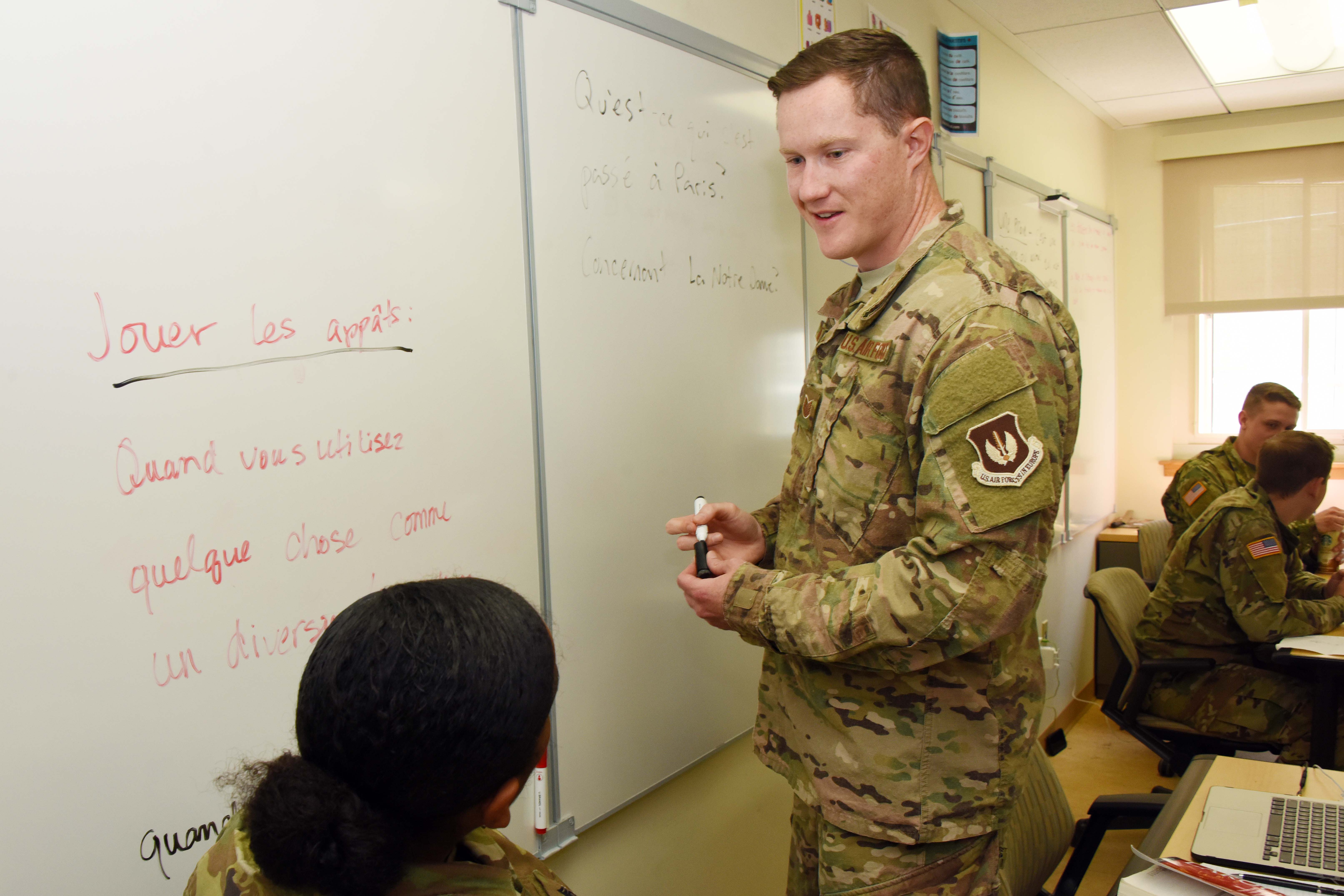 When Norman got the call to say he was approved for the position, he thought he was headed to Paris, France. Instead, he found out his follow-on assignment is to England. "I'm okay with it," Norman said. "I get to spend a year or so in Monterey and then off to Europe after this, so it's perfect."
There are two French-speaking air traffic controller positions at Charles De Gaulle airport in Paris. Norman's position at Royal Air Force Lakenheath, England, is a pool for those positions in Paris or for Temporary Duty assignments where French-speaking controllers are needed.
"The Air Force did not have any registered French speakers eligible to replace those Airmen in Paris, so it was found necessary to send a handful of people to DLI in order for (their major command) to have access to replacements," explained Tech. Sgt. Dodge, an air traffic controller stationed at RAF Lakenheath and 2016 graduate from DLIFLC.
This also includes TDYs to French-speaking locations such as countries in Africa.
Dodge also used EQUAL Plus to get his job at RAF Lakenheath. He had applied three times for a position where Spanish was required. He was a few months away from getting out of active duty when he applied for his current position.
"I already had a job lined up and had to inform them that I was no longer separating," he said. Dodge, who has been stationed in England for three years, will soon be heading to Portugal for a year tour before going back stateside. "I'm trying to learn some Portuguese on my own," he said.
Being part of an air traffic controller doesn't necessarily mean they use their foreign language in their everyday jobs, so maintenance is up to them. For Dodge, that's part of why he travels.
On one occasion, Dodge was able to help a friend's daughter who was sick while they travelled together through Normandy.
"In France, you can't just walk in and buy some medicine for a flu" like you can in America, Dodge explained. "You have to talk to the person on duty and describe the symptoms." Because of his fluency, he was able to use his French to accurately explain the symptoms and get the correct medicine for the little girl.
"I have a whole passport full of stamps from European countries," Dodge said. "I intentionally try to place myself in small towns where nobody speaks English and try to confuse the French or Belgians into not knowing what nationality I am."
EQUAL Plus is a program that's unique to the Air Force. If you or someone you know is interested in taking their career on a different path, you can learn more on the Air Force Personnel website by going to the Assignment Management System.